Future Work Life 
A Practical, How-to Guide to Help HR-Managers Create a Climate of Psychological Well-Being Post Covid-19.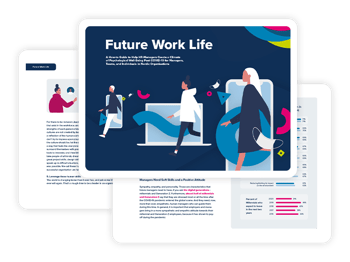 2020 has accelerated change and led to shifts in traditional ways of working. We are heading into the future work life.
In this guide, you'll learn how to:
Develop Self-Aware Leaders
Equip Managers for the Remote Pre-, On-, and Reboarding Process
Upskill Managers for a New Learning Culture
Foster Trust and Knowledge Sharing in Diverse Virtual Teams
Create more D&I at the (Remote) Workplace
Create a Sense of Belonging with a Healthy Virtual Feedback Culture
Work Efficiently and Focused
Boost Personal Development and Learning with Up- and Reskilling.
Created in collaboration with

Part of our Future of work universe
Looking to learn more? Check out our other e-books and guides here.
Download the guide
Fill out the form and get the guide in your inbox in a few minuts