Take back time and work smarter with AI
Say goodbye to hectic workdays. With the Intelligent Content Creator at your fingertips, you can speed up your productivity by 10x and write like a pro.


Write like an expert
AI will paraphrase, change tone-of-voice, and fix spelling for you.


Create entire courses
Get AI to generate entire courses based on your prompt/request.


Brainstorm & guidance
Tap into AI when your creative well runs dry or when you need a nudge in the right direction.


Translate content
Translate learning content into whatever languages you need in one-click.



"Before it took me approximately 2 hours to make a [course] module, whereas today it takes 20-30 minutes."

- Rebecca Mårtensson, IIH
AI changes the experiences for everyone for the better
Our tool will help you create better learning experiences for your employees and make life so much easier for the ones creating the learning content.
Write like a pro
You can now effortlessly create training materials like never before! The AI tool can analyze large amounts of data and generate personalized training materials in minutes. This means more time for you to focus on other tasks. By the way, AI made this text - could you tell?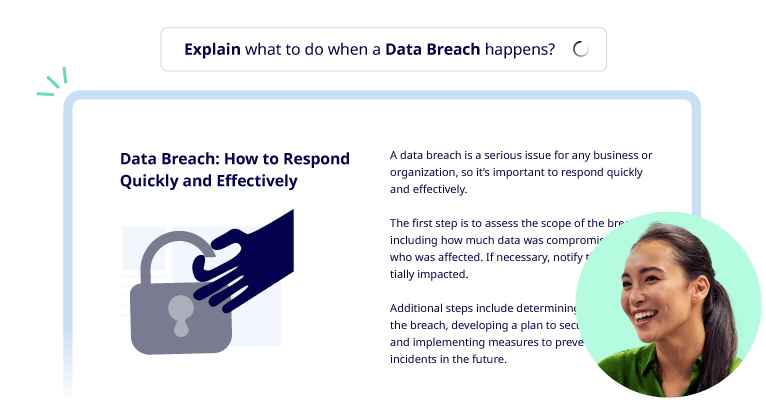 Go big or go small
You can use AI to generate entire slides or just help you with titles and smaller text bites. Yes! With the Intelligent Content Creator, you can cut down on manual work and help your team work smarter.
Auto-translate in one click
Do you also think translating learning content is a time-consuming and challenging task? Then you're going to be very happy with Automatic Translation. Your content can be translated into any language with just one click.

"A company like ours, which operates on a global level, also needs to have course materials in multiple languages, and that's why the auto-translator feature in the platform is absolutely ideal in our case. Now, it's way faster to create modules in multiple languages."

- Søren L, Crossbridge Energy
Questions you might have
✔️ How trustworthy is AI-generated content?
Don't worry. The Intelligent Content Creator is built with a dynamic filter to ensure
the accuracy and relevance of the content it generates. But like everything else on the internet (and in life), it's a good idea to use one's common sense.
✔️ How does it work?
The Intelligent Content Creator is powered by OpenAI technology that uses a deep learning algorithm called a transformer to generate responses. In short, it is designed to understand the context and generate responses that are relevant and coherent when a user/admin inputs a message or question.
✔️ What can it do for me?
The Intelligent Content Creator can help you generate everything from multiple-answer questions and polls to whole text slides on specific topics. It'll also help you in your writing process both with inspiration on a specific topic or making your text even more sharp. But we're continually developing our Intelligent Content Creator, so you in the future will see it in all parts of our learning platform.
✔️ Is it secure to use in a company context?
Yes! It'll not collect data from your platform, it'll only generate responses for you. These responses will be based on open-sourced content from the internet.
Get a product tour and meet the Intelligent Content Creator