Prima Assistanse
How They Increased Course Completion Rates Up To 98%
| | |
| --- | --- |
| | Industry: Service/Health Care |
| | Size: 2389 users in platform |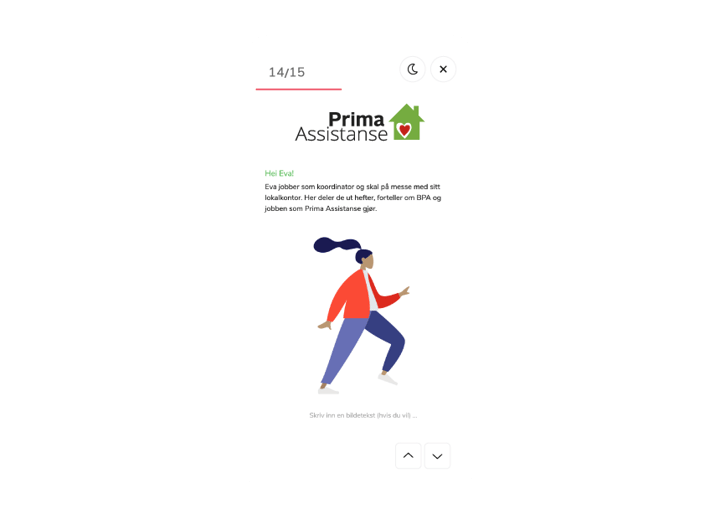 Prima Assistanse is a Norwegian health care provider offering home-based assistance services, with a focus on User-Controlled Personal Assistance. The company has been delivering its service care since 2013 and have now a nationwide presence with more than 1500 qualified assistants and caretakers across 12 offices in Norway.
Prima Assistanses' main user groups in the platform are their assistants out in the field and administrative employees.
Challenges
For Prima Assistanse, employee trainings are fundamental in order to secure the right care, and they had many big challenges with their employee trainings before Learningbank came along.
One of the challenges was to train all their employees despite HR not meeting them face to face as they are spread across the country and new employees joining frequently.
Prima has a naturally high employee turnover due to many part-time workers, many of whom are students or seasonal staff. This means that Prima has to be able to train their employees at all time, no matter when the employees started their employment.
"We never have the chance to say, 'OK, everybody come to the HQ, we're gonna have a training.' It's just not possible."
| | |
| --- | --- |
| | Mari Lønne Wergeland, Learning & Development Specialist, Prima Assistanse |
Another challenge Prima was struggling with was the low engagement and participation in the training they did have. Although Prima had an LMS system before Learningbank, it wasn't efficiently communicating and passing on information to their employees. Instead, it was hard for them to create the training content and get their employees to take the training.
"It was quite complicated to use, both for us internally and for the end-user. Which of course then resulted in that we didn't create as many trainings because it took a long time and of course, the participation rate wasn't very high either because it was complicated to use for the user as well", Mari continues.
Solution
The easy-to-work-with, easy-to-understand Learning Lifecycle Platform from Learningbank became the solution for Primas Assistanses' challenges.
Prima created Learning Journeys in the platform for their main employee groups making learning better fit into the flow of work. The Learning Journeys allows employees to get one piece of short training at first, and once that is done, a new part opens up automatically after some time, building on the former training.
Ida Borgenvik, HR-coordinator and Mari Lønne Wergeland, L&D Specialist at Prima Asisstanse, say that both the Learning Journeys and the fact that Learningbanks' platform is visually appealing and intuitive has impacted the increased learner engagement. "I think once we get people in and they see that 'OK, it's easy to go through, it's quick to deal with', I think that has really solved a lot of things for us.", Mari tells us.
For some, the visual and intuitiveness might sound like small things, but Ida explains to us the big differences it had for their employees' learner engagement and course completion rates:
"Some of the employees had taken the same training in the old platform and had to take it again in the new one. Some of them actually said, 'Ohh wow, I didn't learn this with the other platform. It's the same text but not in the same way and I didn't understand it in the last platform.'"
| | |
| --- | --- |
| | Ida Borgenvik, HR-coordinator at Prima Assistanse |
But it's not only their staff out in the field that are happy with Learningbank. The admins are happy about the platform as well, as Ida explains further:
"It's much, much easier to create modules and short learnings. It means that we of course create a lot more[...] And then when we launched Learningbank, everyone was just happy. And then we did a quick training with our administration staff, the ones that are actually in contact with the assistants, I think they just said 'wow, this is easy. This is fun.', so yeah, it was fun to launch the system and it was easy."
Although the platform itself is very user-friendly, it is nice to know that Learningbanks' support is there in case you have a bad day.
"I actually deleted a whole department in the platform. Like, it's a big ONE, I don't know, 300 employees or something. I was kind of freaking out! So what do we do now!? We don't have any statistics! We don't know who has taken the courses or who hasn't. It was just all gone. I contacted the support team and asked if Learningbank could help me. And then they said 'Ohh we can fix it.' Then two days and it was all back! I said to the others. 'Wow. Learningbank is the best learningplatform in support!' ", Ida tells us, looking truly amazed.
Results
A major result is the time-saving aspect combined with increased course completion rates. One time-saver is thanks to the integrations with other systems that Learningbank made possible:
"The fact that our systems now speak to each other saves us a lot of hours and headaches!", Mari says and continues telling us about another way Learningbank has helped them save hours of work and increased course completion rates:
"We also have a lot of mandatory trainings for admin staff, which previously I spent quite a lot of time on. I had to fill out Excel forms saying how many people had completed it and it was a lot of tracking and finding numbers. And I had to really be on their case about completing the trainings. It's a big thing that took a lot of time and now those trainings are implemented into Learningbank. The completion rates are very good on those ones. It's like 98% and we don't really have to do much with it. It just happens. Much easier than it was before."
"We need them [the employees] to take the trainings and now they want to do it because it's easier and more fun." Ida happily announces.
To summarize, the results they see are increased course completion rates, less administrative work, easier to understand for everyone – less questions from employees as they now actually understand and learn from the training:
"We can see that people are doing the trainings, and there're very few questions and I feel like that's a measure of success for us" Mari summarize.
The results have been so good that Prima Assistanse currently is working closely with Learningbank to expand and make even more training available.
Download the Prima Case
*Includes 3 Tips from Our Digital Learning Experts