The Learning Lifecycle Platform - built for today's workforce
Meet the world's first and only learning lifecycle platform right here. It's intuitive and simple to use. You'll never go back when you've experienced the endless possibilities.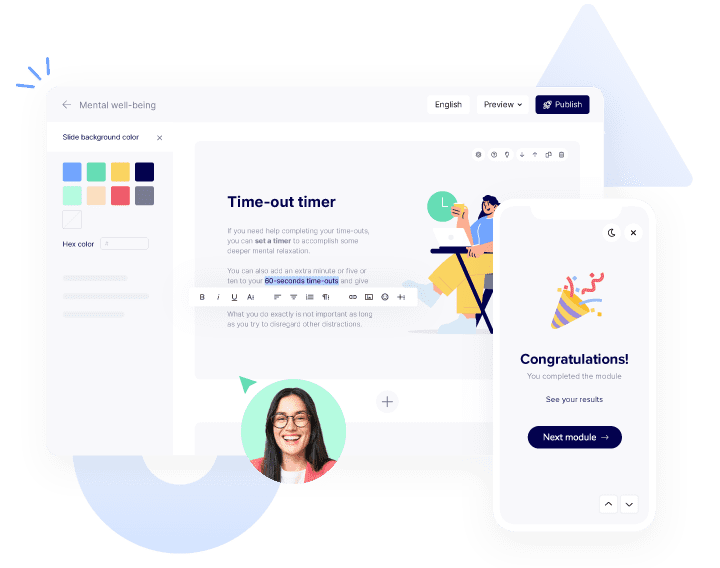 Wait... What's a Learning Lifecycle Platform?
The Learning Lifecycle Platform combines the best of LMS and LXP to offer both personalized and formal learning capabilities.
The platform's AI Learning Helper and automated learning journeys save administrators valuable time while supporting blended learning, which connects digital and in-person training methods. With Learningbank, companies can unlock employee potential and foster a culture of continuous learning, leading to happier employees.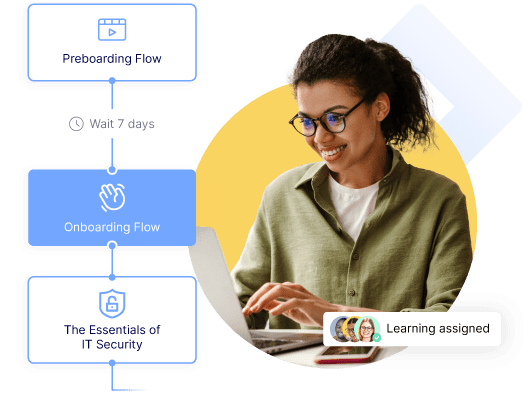 The right learning
at the right time
Easily schedule and automize learning journeys based on e.g., job function or department – for both new hires & current employees.
| | |
| --- | --- |
| | Automize learning |
| | Assign users |
| | Set due dates |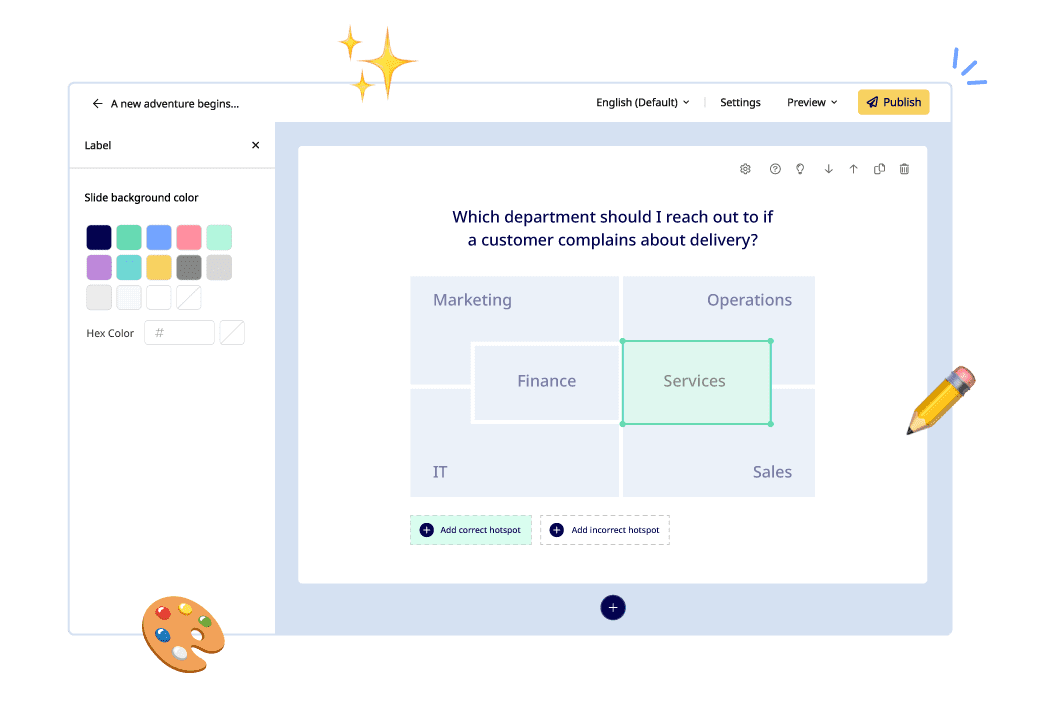 Create content in a heartbeat
Our learning platform speeds up the creation process and can be used by anyone.
| | |
| --- | --- |
| | Easy-to-use interface |
| | AI-powered content helper |
| | Automatic translations |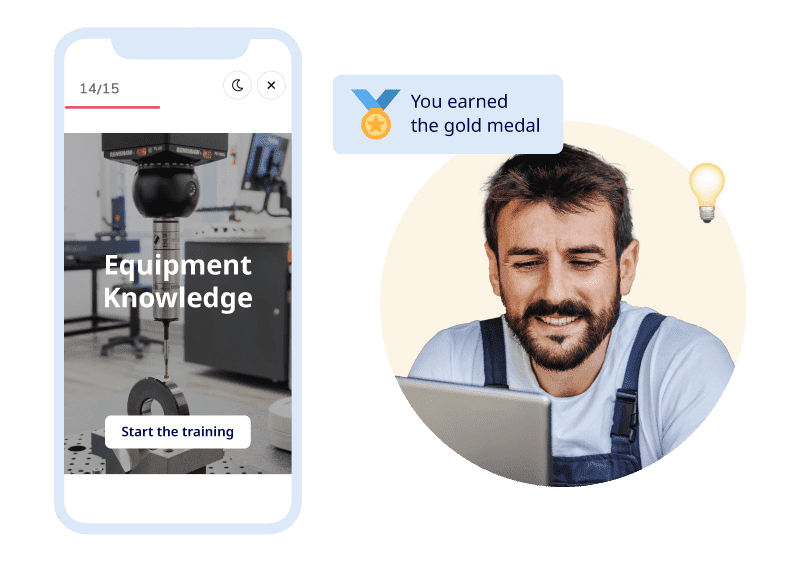 Engage your learners and help them remember
Every part of the platform is designed to engage your employees and improve knowledge retention.
| | |
| --- | --- |
| | Use gamification |
| | Add interactions & quizzes |
| | Reward learners with badges |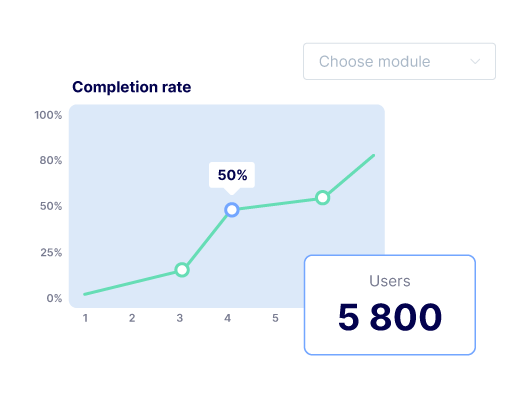 Prove the impact with a few clicks
The dashboards and detailed reports give you the ability to prove ROI, track performance, and document learning outcomes.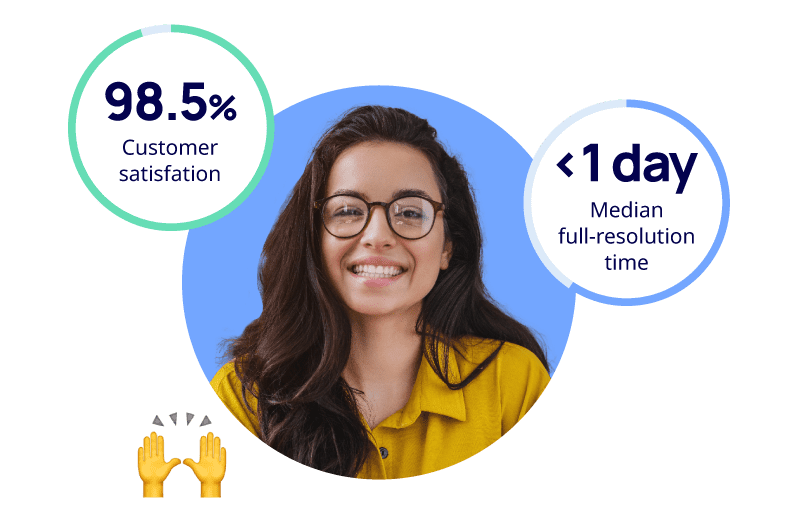 We are always by your side
We will continuously deliver the best support for you and conduct vitality check-ins even after you press the go-live button. We'll be like a colleague.
This is why we are more than just another learning system.
Everything you need for L&D
Meet some of our favorite features


Integrations & Single Sign On (SSO)
All your systems are integrated in the platform, and single sign-on makes it easy to access.



AI Content Helper
You'll get a "digital assistant" that knows everything. We have integrated AI technology to make your work easier.



GDPR ready & Customized Platform
Your platform, your brand. And the platform will automatically delete employees, when they leave.


Mobile App (iOS & Android)
Make it easier for your employees to learn anything, anywhere, anytime.


SCORM Support
Include ready-made SCORM-format learning units in your learning paths with a few clicks. 



Blended Learning
The platform supports blended learning with the ability to create physical courses, events, and manager driven tests.


Optional & Required Learning
Balance push and pull learning with the platform. It's easy access to both required and on-demand learning.



Learning Journey/Sharing
It's a new way to share and schedule learning. Build learning journeys with a simple drag'n'drop function. 



Social Learning
The Social Learning Wall lets the employees reflect and interact together.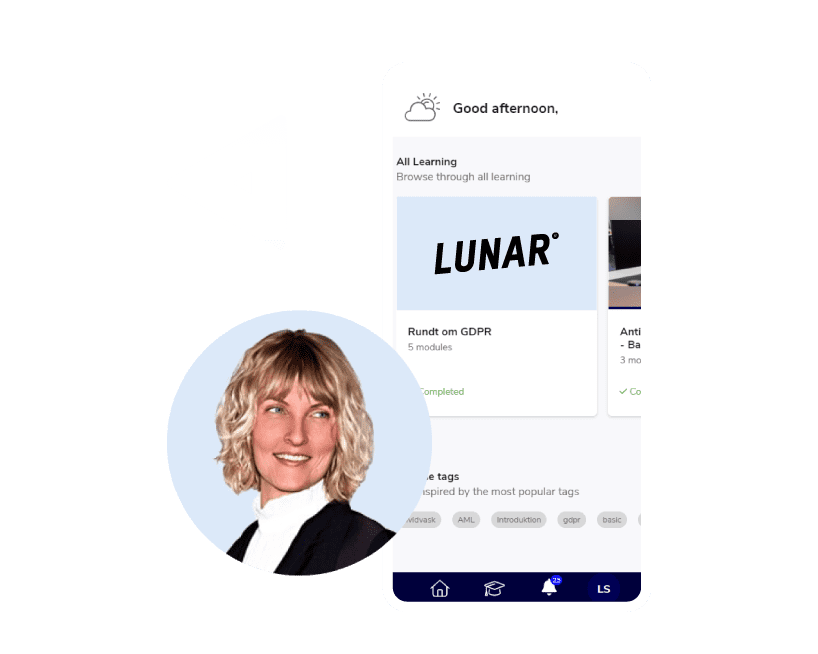 "It is really nice, that everything runs automatically in the platform"
Nanna Kvist, HR Coordinator, Lunar
FAQ
How do we get started?
With Learningbank, you're up and running in less than 30 days - and your personal adoption manager will help you all the way from implementation to adoption and scaling.
We always start with a kick-off meeting. Here, we meet each other (digitally or in person), and instead of throwing a lot of ideas up in the air, we will start planning towards your go-live date, and get a sense of your needs and tune the future process.
Afterward, we continue on with Super User Training for the admins, Q&A session, an engagement workshop to help you to get all your learners on board, and after you press the go-live button, we'll continuously deliver the best support for you and conduct vitality checks.
See our timeline or read more about how to get started.
What pricing plans do you offer?
We offer monthly and annual subscription fees as part of the pricing model.
Visit our pricing page for more information.
Can I import my existing learning content?
You can import your existing learning content in different formats such as SCORM-files, PDFs, PowerPoints, and much more. We don't have a button that magically imports all of your content at once, but you'll have your very own learning specialist to support you and share best practices - you're never alone in the process.

If you have old learning content, now, it might be your chance to spice it up with the easy-to-use features in the Modulemaker and make the old content flourish and shine bright as new. The Modulemaker is a great tool to break down PDFs and PPTs if these formats were the ones you used to create learning content in the past. The Modulemaker is very identifiable and feels a bit like 'home' if you are used to working in Powerpoint, and when you break PPTs or PDFs down, you can often see what is nice to know, what is need to know, and what is just noise?
At the same time, you can add more visual and interactive elements to the old content to make it stand out, and not just let it be the text-on-text content, that (honestly) is boring for learners to complete. This is a unique opportunity to activate and create microlearning and stretched learning in your company, while you also get to gamify your content to boost learner engagement and knowledge retention.
How does the Learning Lifecycle Platform protect our data?
In Learningbank we, first and foremost, practice what we preach, when it comes to securing data and prevent IT security breaches. All employees get engaging digital training in both GDPR and IT Security - and this is not a one-off event.
Certifications
Furthermore, Learningbank has an ISAE-3402 IT certification based on the ISO-27001 certification. This is an international standard, which declares that a company having this certification has a high level of IT security and controls and meets all regulations, laws, and good IT ethics. Moreover, it means that Learningbank has documented processes which are examined and revised yearly from an external audit company.
Data Experts
It is only a hand-full of internal employees who have access to the deep infra-structure and production environment behind the platform, and they are all full-blown experts in handling data - and, especially, personal data. They make sure your data is always safe and protected.
Virus - and Threat Detecting Software
Learningbank's virus and threat detecting software monitors and surveil our production environment and account for suspicious activities, which should not be there. This software prevents and detects threads instantly. Our team will respond and react quickly too if anything comes up.
Access Management
Not all users, or learners as we call them, have access to all information in the platform. As an administrator, you can set your own rules, and choose which learners or other administrators can gain access to specific content and information on a detailed level.
Backups and Encrypting
The Learning Lifecycle Platform do backups from the latest 24 hours and keeps the backup safe for the following 30 days. All network communication is encrypted through TLS 1.2.
Which integrations does the platform support?
What languages does the platform support?
You can run your platform in one or more languages. And speak to your employees in their mother tongue.
The platform supports 17 languages: English (US), English (UK), German, French, Spanish, Italian, Portuguese, Danish, Swedish, Norwegian, Finnish, Polish, Lithuanian, Estonian, Latvian, Russian, Mandarin, and Japanese.
Don't see your language? Don't worry! We'll try to get the platform translated into the language you prefer.
Get fully customizable
learning platform