We see them all the time when we browse the web. The little bubble in the corner saying: "Hi! Can I help you?"
Chatbots are common creatures at websites to boost sales and to release time for busy employees, who do not always have the time to answer simple questions. But are chatbots popular plug-ins in Learning Platforms as personal trainers? In the Nordics, no. They are not even in the pipeline, but only an aspiring trend for the few.
74.6 percent of respondents in Learningbank's Nordic Learning Trends Report answered 'No', when asked if they would consider having a chatbot as a personal trainer to motivate and keep up employees with learning content.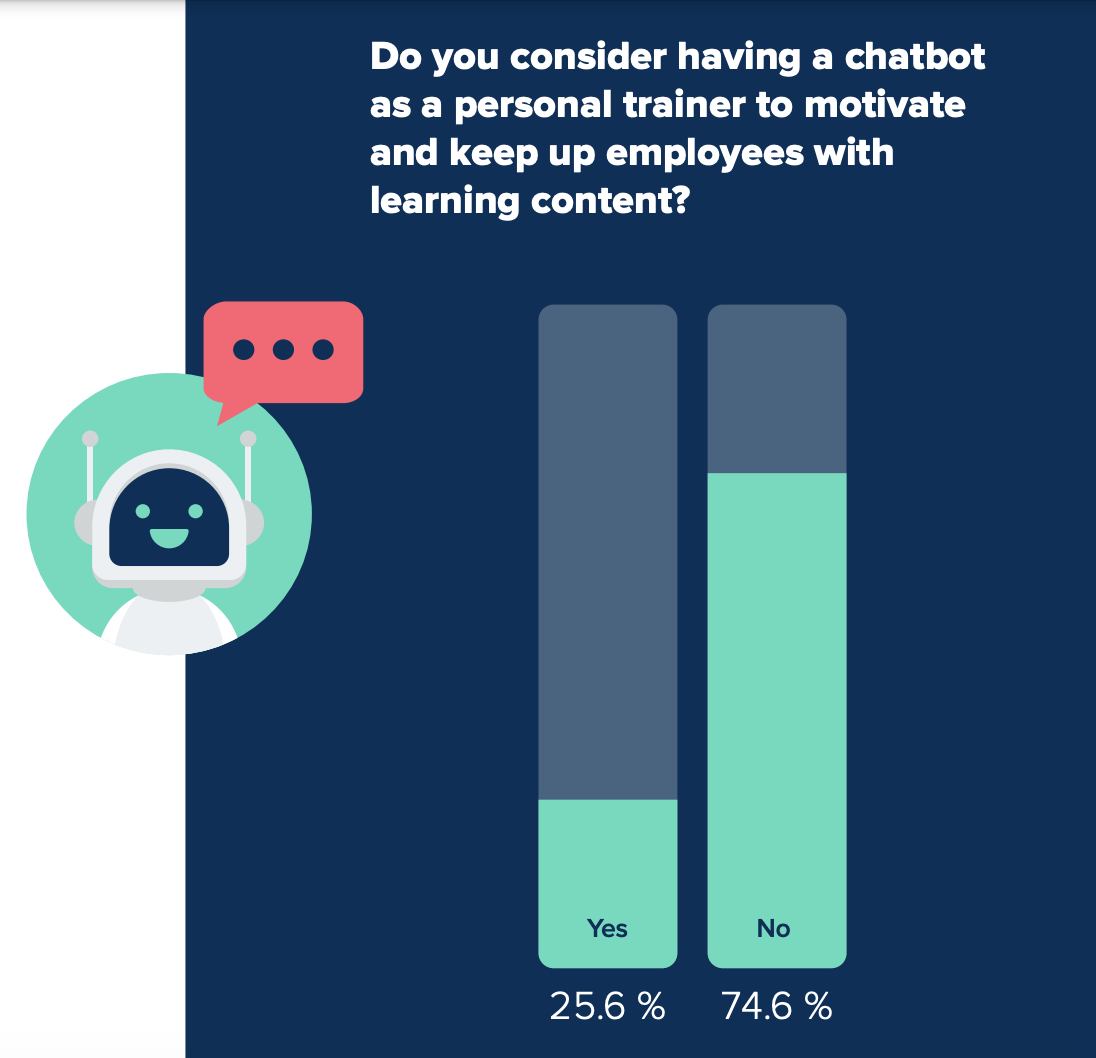 A Global Trend?
On a global scale, the trend is more blurry. According to LinkedIn Learning, only 11 percent of L&D pros think chat - bots will have an impact on digital learning in the next five years, which is at the bottom of the list of all technologies mentioned.
However, in Docebo's eLearning Trends 2020 they say that learning chatbots or more specifically, digital personal trainers, will become more prevalent in 2020 . Now, there are already a lot of different chatbot-tools available for Learning Platforms, but they lack a lot of improvements - still to come when the technology improves as well.
A Handy Help or Disturbing Bot
The argument for a chatbot is that learners of today, especially millennials, want industries to adapt to their expectations of work and life - and here, a chatbot can come in handy. A chatbot can motivate employees to complete digital learning content, and with the right AI-technology they can find new content that is relevant to the specific learner. At the same time, a digital trainer-bot can push learning content to the learner at the right time, so the learner would not feel overloaded with learning content to complete.
Furthermore, a digital personal trainer can provide the attention that learners often crave. The chatbots can give a more personal learning experience with virtual cheers and an understanding og the learner's needs. And this is a big plus in a world, where we (or the algorithms) constantly personalize our digital platforms with, for example, personal playlists on Spotify and favourite movie categories on Netflix. Therefore, a digital trainer-bot might be more visible in the trends for 2021 - if the technology improves.
And this final fact is one of the arguments against chatbots. The technology is not very developed at the moment. This can conclude in mis-use of the technology, countless bugs, and that chatbots do not live up to their potential - yet.
Furthermore, if they have not been implemented properly, they can also seem annoying if they keep disturbing in a busy workday, instead of delivering content at the right moment - which is tricky enough to find as is. AND if they are implemented at the same time as part of a whole new strategy with converting more classroom training to digital learning, it can seem overwhelming to learners who need to get used to the new way of learning digitally.
Here, you can see the summary and more pros and cons of having a chatbot as a personal trainer in a digital learning and development context.
Chatbots as Personal Trainers - Pros
Keep the learners up with relevant content

Pushes learning content at the right time
Creates a more personal learning experience
If asked they can find the content you are looking for
Keeps track of learners' performance and boosts motivation where it is suitable
Available and accessible from anywhere at anytime
Chatbots as Personal Trainers - Cons
If chatbots are over-used, they can seem annoying, stressful, and disturbing

The tech is not highly developed yet, so a lot of bugs and mis-use may occur
If chatbots are implemented at the same time as digital learning itself, they might take focus from the actual learning for the maybe-not-so-tech-savvy people, who also have to learn in a new exciting, digital way
Chatbots can never create the same motivating feeling as with a real human instructor, but can instead, for example, be cheery at specific points and answer to requests from learners
Chatbots need maintenance, optimization, and updates to keep up with constant changes