Recent update in the Learning Lifecycle Platform.
At Learningbank we continuously work to be and do better. This includes ourselves as people, as employees, as a company, and as a learning platform. We aim to be an inclusive company in every way. A part of this is using a language that is easy to understand in order to provide the best user experience possible.
We know that language can be a tricky thing. Especially when it's not your first language. As an international company with employees and customers from different countries, we are well aware of this. To keep improving in this area, we constantly update and improve the language used within our platform.
Our goal is to provide the most inclusive, intuitive, easy to both understand and use Learning Platform, and this is where the words themselves become an essential factor. Based on feedback from our clients and team members, we have decided to change the wording in the platform from 'white label' to 'branding.' Hopefully, this will be more straightforward for everyone and give you as an end-user an even better user experience.
Same-same, but different
You will find the feature in the same spot as always: In the left-hand menu under 'organization,' at the end of the dropdown menu. You will be able to do the same thing as always: Implement your own logo, company colors and make the learning platform yours. The only difference is that now you will find this feature under 'Branding' instead of 'White Label.'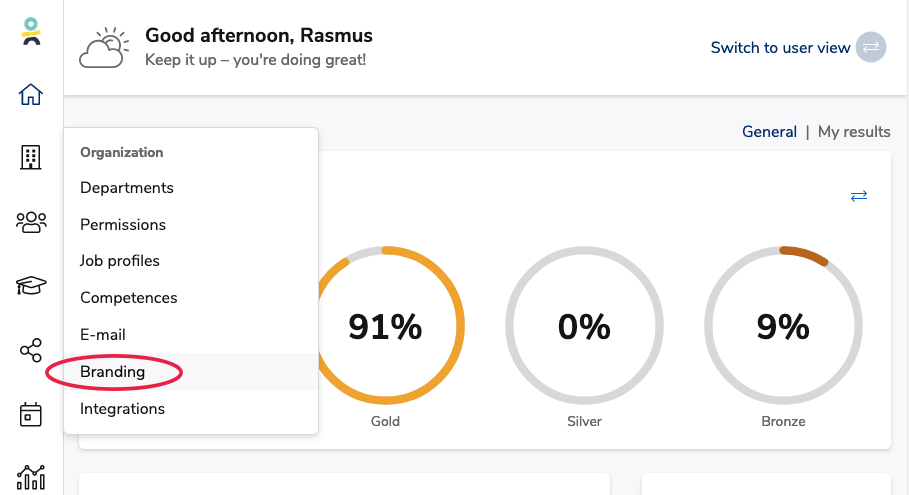 If you have any questions, you're welcome to contact us at support@learningbank.io.