What have we been up to? Just a little make-over of the admin dashboard - to give you a better overview and relevant shortcuts.
We're constantly updating the platform with new features that help you. The new dashboard is not only looking good, but it's also highly functional and presents new insights and new options for the admin.
We've updated the admin dashboard to give you a better overview and a more smooth experience.
The quick tour:
You can see overall and personal stats by switching between general and your stats.
You can quickly get an overview of what you need to react to.
Personal tracking of learning paths so you are always able to see the status of the learning paths relevant to you.
Shortcuts to the most used features on the platform, so you can get up and running even faster.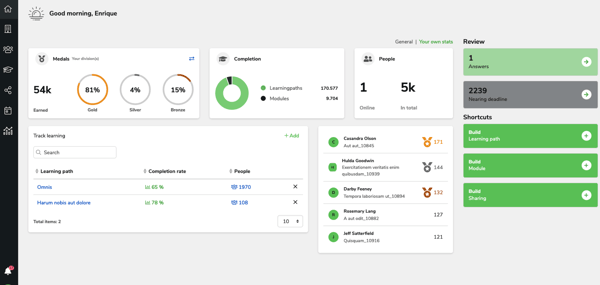 Confused, happy, excited, or worried?
Do not hesitate to contact us if you have any questions or feedback – support@learningbank.io