Over the past few months, we have explored the possibilities of optimizing how to share learning with users in the platform. Thanks to your feedback and ideas, we have managed to come up with a new solution.
Sharing: What is it?
In the new setup, which we call Sharing, we enable sharing of learning with individual users, departments, job profiles, permission types, etc.
You will be able to set up rules that automatically share learning to newly created users that match the set criteria. This adds next level flexibility and ensures an even more user-friendly approach to learning sharing.
In connection to the new feature Sharing, we also optimize the way modules are updated. In the new setup, we ensure that all users always have the latest module version.
If major changes are made to a module so that users must retake the module, you will be able to encourage users to retake the module. In this setup, the user data on previous module completions will not be deleted.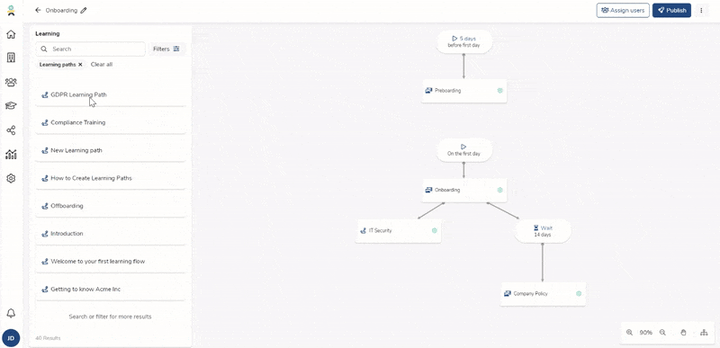 Phasing out Learning Path 1.0
If you are using Learning Path 1.0 today, this information will be relevant to you. As we are developing Sharing, we are cleaning up some old features. This means that all learning paths 1.0 will be converted to learning paths 2.0.
What does that mean for me?
Teams on learning path 1.0, which contains the same modules, will be converted to a collected user list in the new setup. It will be very clear which learning paths have been shared with the users in the user list – and of course existing data will not be lost or deleted upon conversion.