Retail guide: 10 tips to keep employees in a high turnover industry
In this guide you learn how retail businesses can become better at keeping employees.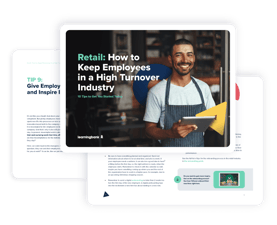 Why should you download this guide and focus on keeping your employees in retail? Let's start with some cold facts, on why retail businesses should focus on employee retention:
The average turnover rate in the Retail industry in the US is 60%.
This high rate is costly. 230 million days in lost productivity and astonishing $19 billion in costs like hiring and training.
The retail industry is expected to grow, and it's estimated that global retail sales will bring in $26.7 trillion in 2022.
In this guide, you will explore hands-on tips on:
Recruitment
The Great Pre - and Onboarding
Better Management
Learning and Training
Rewards & Recognition
Social Time
And much more ...
Want other material? See all our guides here.
Download your guide now
Fill out the form and we'll send it directly to your inbox.