Digital transformation is constantly upon us. New software and new digital tools give us the opportunity to optimize our flow of work and manage our tasks with more ease.
But this releases time for new, exciting tasks to do, and we often jump head-first, here and now, without any thought for the future. And when will time ever come to actually learn, develop, upskill, and be ready for future changes at your workplace? Here, microlearning can be the solution.
What Is Microlearning?
Microlearning is a method in your digital learning strategy where you split the learning content into smaller bites, and it is considered a crucial part of modern employee development. Typically, no longer than 3-5 minutes.
It is important to make the learning content short and concise to fit a tight schedule. An example of microlearning could be a quick brush-up quiz with a few questions and answers to engage the learner.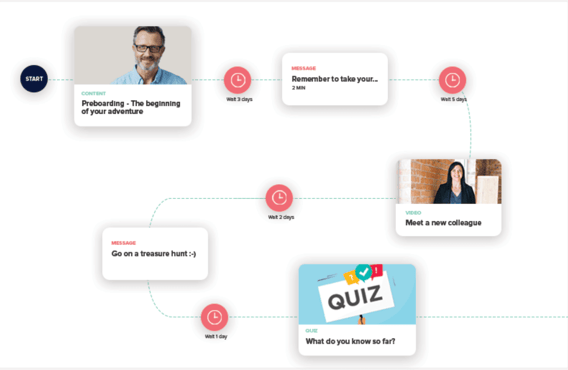 Examples - Types of Microlearning Content
Just because microlearning is short and a concise type of learning, does not mean that it should be dull. Be creative when you build your microlearning content. Context is important, but do not waste time on text content only.
Examples of microlearning content:
Video presentations in preboarding and onboarding learning paths
Brush-up quizzes
Interactive drag-and-drop question setups
Sound bites
How-to videos
Puzzles
Flexible Content - in Many Cases
Maybe you already recognized terms as pre - and onboarding. This is no coincidence, because microlearning can be used in many different learning contexts, and not only when you need to develop a new skill.
Pre - and Onboarding
Let's begin with the pre - and onboarding example, where microlearning can come in handy. When you are a brand new employee, you still often grasp all your new tasks, the work culture, and the names of your colleagues.
In this case, you do not want to get loaded with a huge pile of information about, for example, GDPR, company mission, and history. This information can instead be packed as microlearning content in a playful digital format, where the new employee can take a step at a time, and really focus on each type of information.
This is a motivation booster, both in a preboarding setting where the microlearning content taps into the excitement of getting started at the new job, and in an onboarding setting where the flexible content gives the employee the time to learn, breathe, and really grasp all the new.
Upskilling and Reskilling
In these ever-changing times, general up - and reskilling is very important. In fact, 42.3 percent in our learning trends report see it as their biggest priority, according to Learningbank's Nordic Learning Trends Report 2020. The reasons are plenty.
One, for example, is that automation of jobs removes certain positions, and because of this fact, reskilling into new positions is important to keep employees and inhouse-know-how.
However, it can seem stressful to learn something new, and still, from the corner of the eye, see daily tasks piling up and the inbox count increase. Here, microlearning content can also be a great help. It has already been mentioned, but nevertheless still important to state:
Microlearning can fit a tight schedule both in an upskilling and reskilling setting. The thrill of learning something new will rise, with the right planning and stretching of the microlearning content, with still time left to do the daily tasks. No stress in sight.
A good idea is to make microlearning accessible on all devices, for example, work laptops, smartphones, and tablets. Making the content fit outside the regular working schedule too.
Blended Learning Contexts
Microlearning is brilliant in many different learning contexts, but it should not always be the sole option. It should rather be seen as a great add-on in, for example, a blended learning context.
Blended learning is when you mix up learning activities, both IRL -, social -, and digital learning activities. And it is, of course, in the digital part of blended learning where microlearning comes in.
Short, concise types of learning content can build a baseline and prepare employees before they try out the new knowledge on the floor or at their desks.
This is a true time-saver too because when we build a deeper understanding with short, effective types of content, you will not have to repeat yourself or start from scratch when practicing with employees IRL.
As you can see, microlearning is handy in many different cases. To brush up on knowledge too, instead of assembling the entire department for a multiple-hour seminar, or to get a quick overview and learn about a new product line. It is only the imagination that sets the limits.
Today we are so used to microlearning, although we might not be aware of how often we actually use it. See the video below 👇