Get the right gut feeling and see how easy it is to get a successful start with Learningbank's Learning Lifecycle Platform with these 5 simple steps.
Step 1: We Start Simple - Together
Of course you don't have to start on your own and spend multiple hours learning about what the platform can do.
In Learningbank we always take a kick-off meeting together. Here, we meet each other (digitally or in person), and instead of throwing a lot of ideas up in the air, we will start planning towards your go-live-date, and get a sense of your needs and tune the future process. No need for information overload.
Whether you come from a small or a large company - it does not matter. We always have this meeting with all of our customers to get the best start as possible.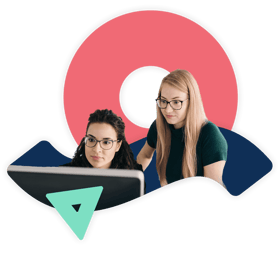 Step 2: Online Super User Training
As Learningbankers we know how easy it is to create content and use all of the features in the Learning Lifecycle Platform. But we need you to see it too and get a common baseline as a jumping off point to talk about in the further process. This is why we want you next to do an online super user training.
The super user training takes you on to various learning tours where the features in the platform are explained. You can come and go to to the training as you like, and you can take it individually or with the rest of the people who are going to be admins in the platform. It takes a maximum of two hours to complete, and you can always re-visit to refresh your knowledge about the platform. Furthermore, you can share the super user training with new admins in the future, which is very flexible.
Step 3: Q&A Session
Now, it is time for all of your questions. It makes a huge difference now that we all speak the same language after you completed the super user training.
In this session, we answer all your questions and give you some of our best practices for building your platform. Best practices that - of course - are tailored to your needs and brand. Some examples could be:
Branding
Email-setup
Domain
Reply-to
Department structure
Learning paths
Sharings (Themes, for example: Pre - and onboarding, Sales Training, etc.)
We guide you and be your sounding board. At the end of the meeting we will tune in our expectations, and set guidelines for the collaboration. We will set the first milestone for you to achieve, so you can come closer to go live with the platform in your entire organization. Examples on milestones:
The first learning content
Test setup
Feedback on learning material
We will make demands to you to make sure you achieve your goals. At the same time, we will guide and help you on your entire journey. In this way, you will get most from this, because when we push, we often get the best and most difficult questions back from you - and this will make you an even better admin. And when you become a better admin you get to know about the platform - quickly.
Step 4 - Adopt and Engage Users
The platform is not worth anything if none of your users know about its existence. That's why adopting and engaging users are key for you to get success with the Learning Lifecycle Platform. We will have a workshop together, so you can get them all onboard.

Some of the topics in this workshop will be:
Audience analysis
Marketing to your audience
Creating a learning strategy
Campaign activities connected to your strategy
Minimizing risk connected to barriers for your audience
Marketing and user adoption is closely connected. This we will elaborate for you in this workshop, and give you the right tools fitted to your audience and your challenges.
Step 5 - Support and New Features
You are never on your own after you press the go-live button. Learningbank will continuously deliver the best support for you and conduct vitality checks. We make sure to integrate the platform with the other software and systems you use daily, for example HR systems, workforce management, ERP, and communication tools.
Furthermore, we improve the platform continuously, and new features are released all the time for your optimal experience. You will of course get notified, each time a new feature comes on to the platform. And if we think a specific feature will benefit your case in particular, one of our adoption managers will contact you directly and for example talk to you about how you can update your learning strategy with this new feature.
When we are close and know each other well, the foundation to adopt even further is even better. This is why we are more than just another Learning Management System.