Nespresso
Digital Learning That Engages Employees
| | | | |
| --- | --- | --- | --- |
| | Industry: Retail | | Size: 503 Employees |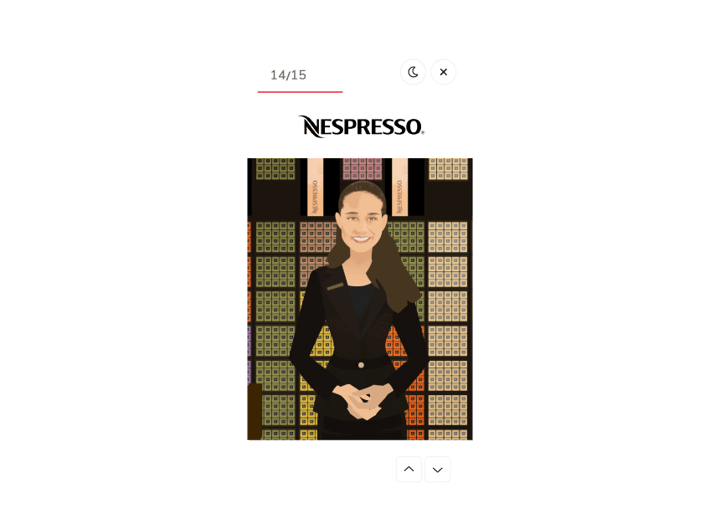 Challenge
HR Training Specialist in Nespresso, Mia Lyster, has a clear responsibility; to strengthen employees essential conditions for success through relevant training. She needed a digital training solution to support Nespresso's training program.
"I estimated that classroom training and 'train the trainer' should be supported by digital training that our coffee specialists can access whenever they need it. I think that the project deserves extra attention because the member benefits have been created on the basis of customer feedback", adds Mia.
Solution
Mia chose to work with blended learning, which offers digital learning that the employee complete on their own, combined with face-to-face training on the job. But Mia was worried:
"Not all employees are excited about e-learning. If an e-learning module is compulsory, you have to make an effort to make it interesting and motivational." Says Mia Lyster, HR Training Specialist, Nespresso.
Therefore, the digital part was developed in cooperation with Learningbank, which has a comprehensive track record of engaging digital learning experiences through gamification.
Nespresso machine with built-in learning
"Nespresso received an e-learning package containing a playful element: Together with Learningbank, we invented, among other things, a Nespresso machine with built-in learning. It also includes known Nespresso products that need to be activated along the way, thereby creating familiarity during the learning process."
The learning module also includes a video in which the coffee specialist is a real coffee specialist from one of Nespresso's own stores.
These kinds of details are essential when you need to capture a corporate identity down to the smallest detail. "We are a global company with English as our primary language. Our professional concepts are not translated but remain the same in all languages. These concepts must come across clearly and completely flawlessly, in text as well as voiceover. It may feel a bit laborious, but Learningbank displayed a responsible, positive and flexible attitude," says Mia.
Results
"We've received an exciting and unique learning solution with gamification, which both refreshes familiar knowledge and provides an overview of the new member benefits. It's also suitable for onboarding or a refresher course for employees who have been on leave or similar," says Mia. She has already received feedback from several employees.
One employee wrote: "I'm not really crazy about e-learning, but this is one of the most fun I've tried."
"We believe that it's a prerequisite for creating a healthy business that employees are experts on the products. And if you want to be successful in learning through digital channels, the content must be convincing. Our collaboration with Learningbank was truly solution-oriented. And the result is a terrific solution that I'm proud of," says Mia.
The Nordic region is one of the first markets to roll out Nespresso & You, and the new learning module has been launched in Denmark, Norway, and Sweden for a total of 503 employees.