LUNAR
Innovative Training for an Innovative Bank
| | | | |
| --- | --- | --- | --- |
| | Industry: Finance | | Size: 700 employees |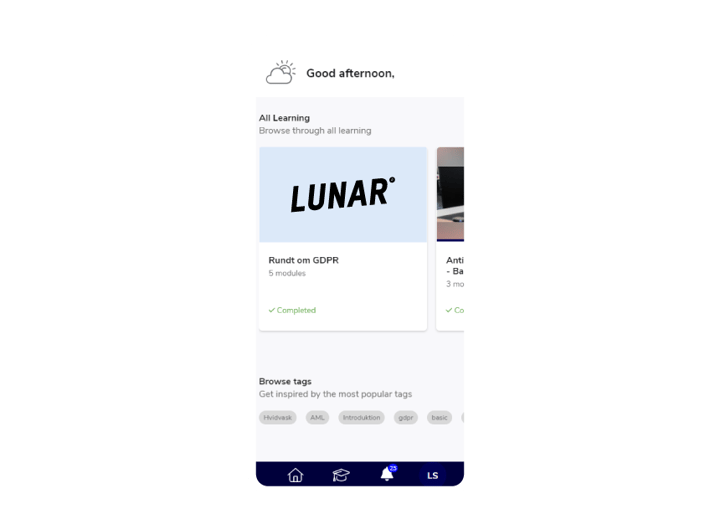 Lunar is a young, digital bank which has been on the market since 2015. Lunar's mission is to be a different bank, which gives its customers the best options to optimize their spending and keep an eye on their finances smarter.
Challenge
In the finance industry, it is necessary to have training in areas like IT security, anti-money laundering, and GDPR. When you are a bank, there is a certain expectation that you are trustworthy and that you comply with rules in the financial area, and this, Lunar, of course, must live up to.
Lunar's challenge was that they didn't have any training that was fit for them, and they didn't want to end up somewhere, where a lot of others end up, where they create a learning library, and then the employees just can go in themselves and find it.
Solution
Lunar chose to give up the dry bank language and instead let their employees taste a learning cocktail containing different formats, such as video, text, and other visual elements, to make them wiser on subjects such as anti-money laundering, GDPR, and IT security.
Lunar has created all of their learning in Learningbank's Learning Lifecycle Platform, where they also have used the opportunity to suit the content to different departments and levels.
"We must acknowledge that our employees are different when we sent out learning. Just as an example, then we all know how it is to tune out, when you are in a meeting, that has nothing to do with 'me'. That is why we have created a GDPR module adapted to fit different departments. Furthermore, we have created anti-money laundering modules: A basis module for the entire organization, an expanded version for the customer roles, and now, we are about to create an expert module, where paragraphs are part of the content, which is not part of the content in the basis module."
| | |
| --- | --- |
| | Nanna Kvist, HR Coordinator in Lunar |
Results
Now, they can easily create all the training themselves. They have a unique tone of voice, and that is why they also got it as a feature with the help of Learningbank, that you now can use emojis, when creating learning content.
"Besides that, everything runs automatically in the platform, and when new employees join Lunar, they automatically receive learning from the platform,"
| | |
| --- | --- |
| | Nanna Kvist, HR Coordinator in Lunar |
They get an overview in the platform of who has completed the different learning modules and as a bank, they have some obligations, so it is a great advantage, that they quickly can generate a list of who has completed the learning and be in control in that way.
Furthermore, they got a lot of positive feedback from the employees. The employees say, that it is very intuitive. Because of the segmentation approach, they can combine the employees with relevant learning.
Download the case here