2023
The Nordic Learning
Trends Report
Dig into the insights from other L&D professionals and over 70+ Nordic companies. This report will give you a solid foundation on where the corporate learning landscape is heading in the Nordics. Prepare your learning strategy and be ready for challenges, keep your learning relevant for your learners and make sure you drive your organization in the right direction.


🚧
Biggest Challenges & Top Priorities
What challenges are we facing, and what priorities do professionals in HR and L&D have? Find out what your colleagues have answered in this year's report and get ideas on how to tackle them.
Let's dive right into the numbers!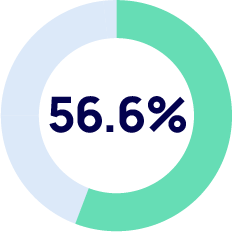 say Attracting and retaining talent
is the biggest challenge for their organization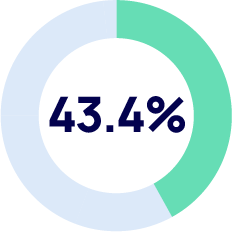 say that Supporting the entire
employee journey with relevant learning
is the number one priority
Top 3 Challenges


The global trends are shining through even in Nordics. And attracting & retaining talents is the biggest challenge even up here in the north.
On a more individual level for HR and L&D professionals, however, it is clearly all about TIME, TIME, TIME! Or rather, the lack of it.


What are your
organization's
biggest challenges?👇


*multiple answers were possible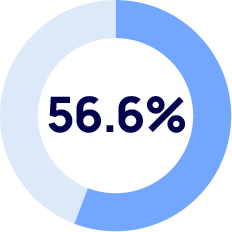 say that Attracting and retaining talent is the biggest challenge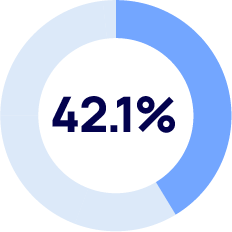 say Building a learning organization with the right skilled workforce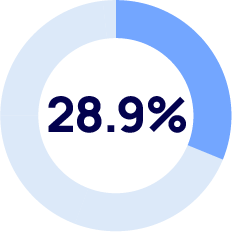 say Staying innovative is their organization's biggest challenge
What are

your
biggest challenges? 👇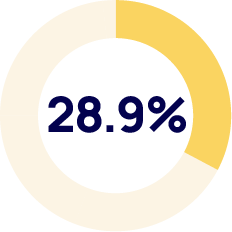 say their biggest challenge is to not have enough time to strategize and think long-term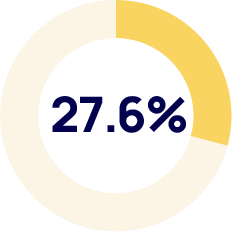 say the biggest challenge is to not have enough time to upskill and reskill employees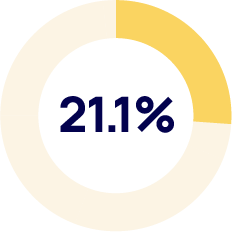 say the biggest challenge is that most time is spent on administration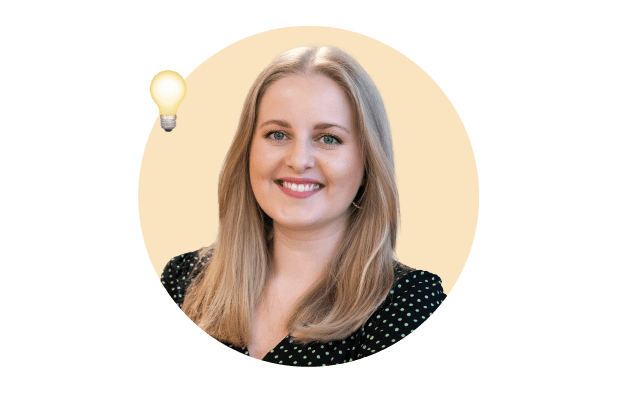 "Ready-made content that can be plugged and played directly in your learning platform can be a big time-

saver

.

"
Ann-Katrine Schepler Holmberg, Global Learning & Development Specialist, Vestas
Top 3 Priorities
For yet another year, we find reskilling and upskilling the workforce and increasing employee satisfaction in the top 3, just like the previous year. The crown has been exchanged though, and with 43.4%, it is now held by Supporting the entire employee journey with relevant learning throughout the employee journey.
In the global trends, we see reskilling and upskilling on the priority lists second place as well, according to the 2022 Workplace Learning Report .
Both the challenges and priorities this year, are correlated. When our employees learn new skills, their satisfaction rises, and you foster innovation. Digital learning can be used to support the employee journey with microlearning and facilitate upskilling and reskilling of the workforce.
What are the Top Priorities for HR/L&D professionals in the Nordics for 2023? 👇


*multiple answers were possible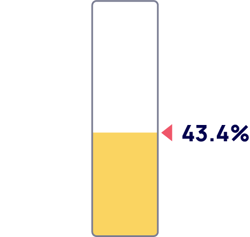 Supporting the entire employee journey with relevant learning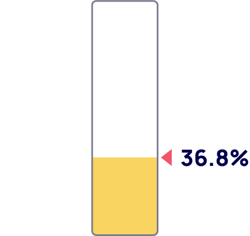 Reskilling and upskilling the workforce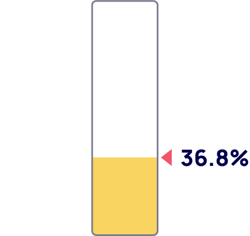 Increasing employee satisfaction
Tackling the Challenges & Priorities:
Short Tips from the Experts
Organization Challenges: Attracting & Retaining Talent 🙋
When employee satisfaction is high, you retain the talent too, and gain higher revenue growth. A few pointers to increase employee satisfaction:
Improving your pre – and onboarding

Be transparent

Upgrade your L&D programs

Provide employees with the right tools & learning

Make the learning relevant for the employees and give it in small bites

Give more feedback and attention
Furthermore, a recent study from McKinsey & Company shows that 41% and the number one reason why people quit their jobs in 2022 was a lack of career development and advancement.

Learning can play a big role in tackling the lack of career development and advancement.
How to keep your employees learning and developing? 🌱
Anchor your learning strategy in your business strategy




Make your employees learning relevant to their job roles and make sure it supports both their career growth and your business
By continuing to give our employees access to development, upskilling, and reskilling, you will, little by little, build a learning organization containing the right skilled workforce.

And with training and learning new skills, your employees will keep their minds open, get more input and, in that way: stay innovative.

This challenge is closely connected to this year's top 3 priorities. Read more under "How to support the Learning Journey with Relevant Learning for more tips.
Individual Challenges: How to Win More Time ⌛
Release time to strategize and think long-term or upskill the workforce by letting digital automation tools handle more tasks for you. It will also reduce your time spent on administrative tasks. Look into the following:
Use an intuitive digital learning platform.

This will make it easier for you to create & distribute learning throughout the organization faster.




Automate processes with your learning platform.

Set up automatic learning journeys

for example, digital pre- & onboarding or compliance training. You don't have to do everything manually.




Integrate systems with each other to avoid doing double work.

Are you using several tools? Make sure they have a working

integration.

That way, you will save valuable administrative time that you could use to strategize and plan for long-term goals.

Using ready-made content that can be plugged and played directly in your learning platform can also be a big time-saver
"The fact that our systems now speak to each other saves us a lot of hours and headaches!", Mari Lønne Wergeland, Learning & Development Specialist, Prima Assistanse

🔗 Read how Norwegian Prima Assistanse saved valuable time by automating tasks and integrations.
Priorities: How to Support the Learning Journey with Relevant Learning ☑️
Some good guidelines to support the learning journey with relevant learning:
Anchor your learning strategy in your business strategy

Plan your onboarding well ahead

Look into digital types of learning and microlearning to improve better fit learning into the flow of work

Connect learners to the skills they need to succeed in their role – for the benefit of the learner and the organization

Create a strong learning culture with knowledge sharing and the use of blended – and social learning – in a digital setting as well
According to Brandon Hall Group's Human Capital Management Excellence Conference, only 40% of companies connect their learning strategy with their business goals.
If the learning strategy is aligned with your business goals, it will be easier to see the value that the learning brings for the whole business and, with that, easier to convince management that more time to upskill and reskill your employees is vital for the business.
This year's priorities are closely connected to the top 3 challenges. For tips on Employee Satisfaction, see "Attracting & Retaining Talent" above.
🤓
HR & Tech
The increase in investment in digital learning tools has risen compared to last year, when only 47.6% saw an increase, today, that number is 51.3%.
In uncertain times when many need to cut costs, investing in a learning platform can help reduce resources spent in the long run and still support both employees, and the business development. And the majority of companies where the respondents work seem to have realized this.
However, this year 14.5% are seeing a decrease in digital learning tools investments compared to last year's 6.8%. The reasons behind both the increase and decrease may be the same. Just that the calculations on how to save money have been done differently.

51.3% see an Investment Increase in
digital learning tools
LMSs and Learning Platforms
LMS's and Learning Management Platforms continue to be popular tools for HR to use. And the ones who do not use one, 16.7% of this group say it's because it would not make sense in their type of organization.

73.7% use an LMS or another learning platform for training employees

44.4% do NOT use a Learning Platform due to a lack of resources

17.9% say their system is NOT ready for the modern workforce
Top 3 Features for Learning Platforms
Bad user experience and design can really kill the whole learning experience. And it can definitely make you spend more time on creating learning than necessary. We are not surprised that over 50 percent have voted for user experience and design as top features.

Follow-up and Measures of learning impact and comes in on second and third place for top features. Without it, you won't know if your learning efforts are paying off or how to improve it.

Read more in about measurement & learning outcomes in this section here.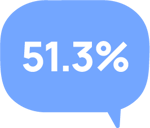 Great user experience and design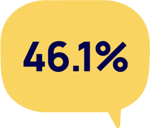 Easy follow-up on employees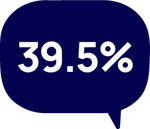 Effective measure of Learning Impact

"The fact that Learningbanks' platform is visually appealing and intuitive has impacted the increased the learner engagement."
Ida Borgenvik, HR-coordinator, Prima Assistanse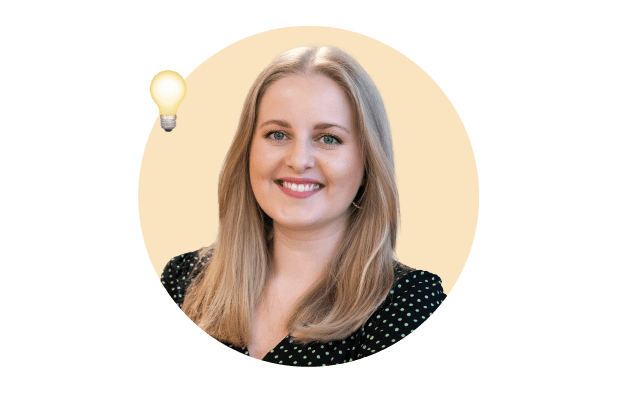 "Use digital tools to prepare the learner for the physical training and avoid unnecessary time spent on repetition and heavy information in the physical trainings.

"
Ann-Katrine Schepler Holmberg, Global Learning & Development Specialist, Vestas
⏳
Time to Learn & Learning Activities



The majority of respondents still give their employees 5-25 hours of training a year, just as last year. However, we can see a clear decline in how much training employees are given in general compared to the previous year.
How does this align with the need for upskilling & reskilling as well as attracting and retaining talent? HR & L&D professionals certainly have to keep fighting to win more training time that their employees and the market are craving.
How many hours of training does an average employee have per year? 👇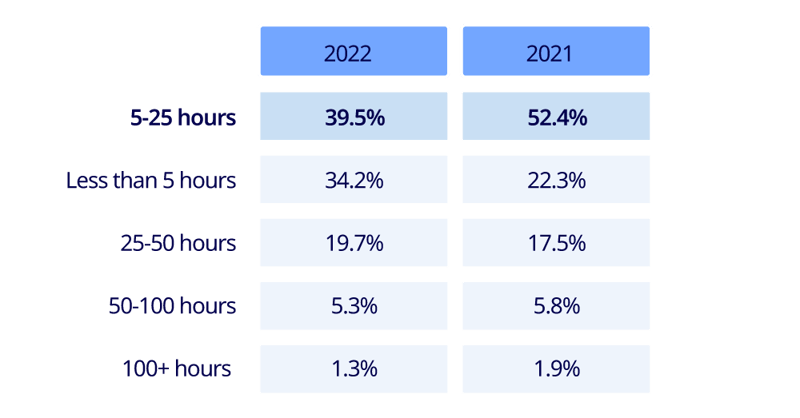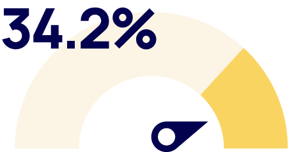 34.2% give their employees
less than 5 hours of training a year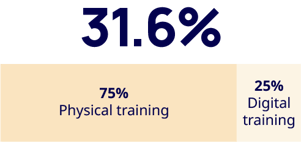 31.6% give their employees
25% digital training & 75% physical training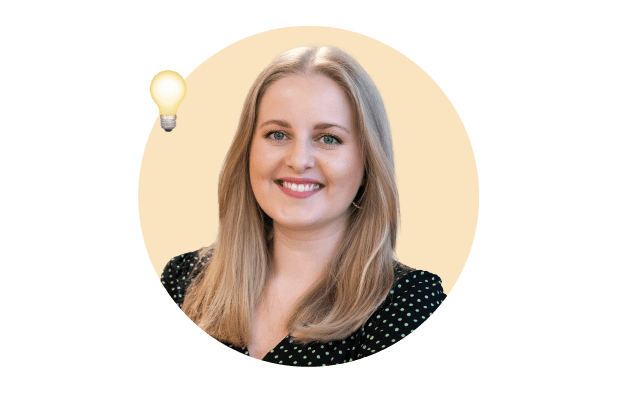 "I believe 'time for learning' is not a matter of how many hours but being relevant for the learner at all time.

"
Ann-Katrine Schepler Holmberg, Global Learning & Development Specialist, Vestas
The Impact of the Return to the Office
Many workers went back to the physical locations of work during 2022. And these numbers clearly reflect that as location-based training rose with it. Last year 40% said they gave their employees 75% digital & 25% physical training, while this year it's only 22.4%.
However, the number that replied 50/50 is bigger this year compared to last. Could a reason for this be that companies realized the advantages of digital training how it can be beneficial even though the work itself might be location bound?
How much of your training is digital? 👇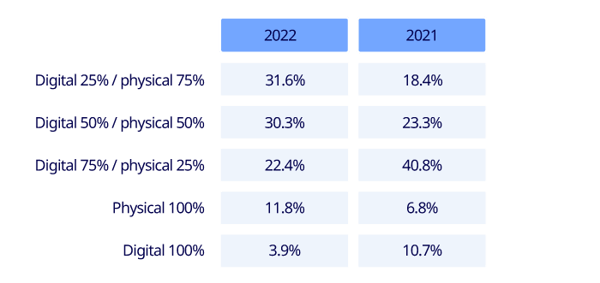 Digital Training & Learning
An example of a company that uses digital training, although their employees need to be physically present, is Gaudium Catering.
They used to spend a lot of time repeating the same information for every new employee, stealing much time for both the administration staff and the new employees.
Now they have digitalized the onboarding and training processes which has saved them much administrative time.
Learning Formats: Previous Year, Now & Planned
It sure is important to make a plan. But the best plans are usually the ones that are agile and easy to adapt. Just as the numbers shown above, physical classroom training increased, compared to last year. Under learning formats, we see the same shift: traditional e-learning (replaced with digital learning with images and videos) has taken a step down. So has webinars, while microlearning and gamified learning has climbed up.
Planned Formats 2021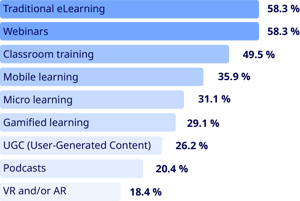 Current 2022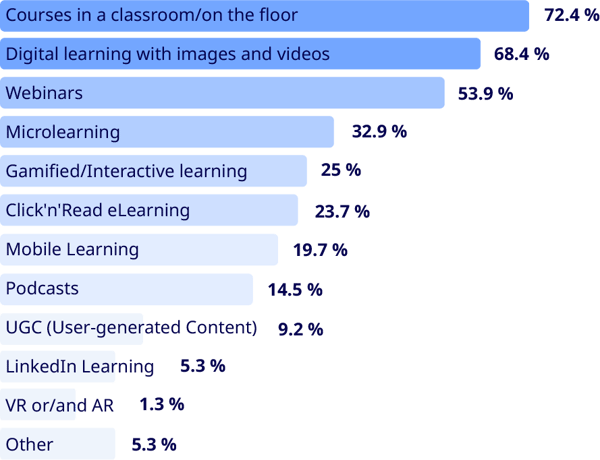 Planned for 2023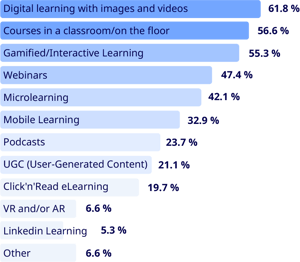 The Advantage of Blended Learning
The Nordic HR and L&D professionals are ambitious yet again. The majority do plan for digital learning as well as classroom/on-the-floor training and digital training in various formats.
Combining digital and physical training (blended learning) can be a real advantage. It lets you use the best of both digital and physical training. And using different types of formats allows you to hit multiple learning styles.

Read more about how HSK, Denmarks biggest Sports Union use both digital and physical training to engage their staff already from the onboarding.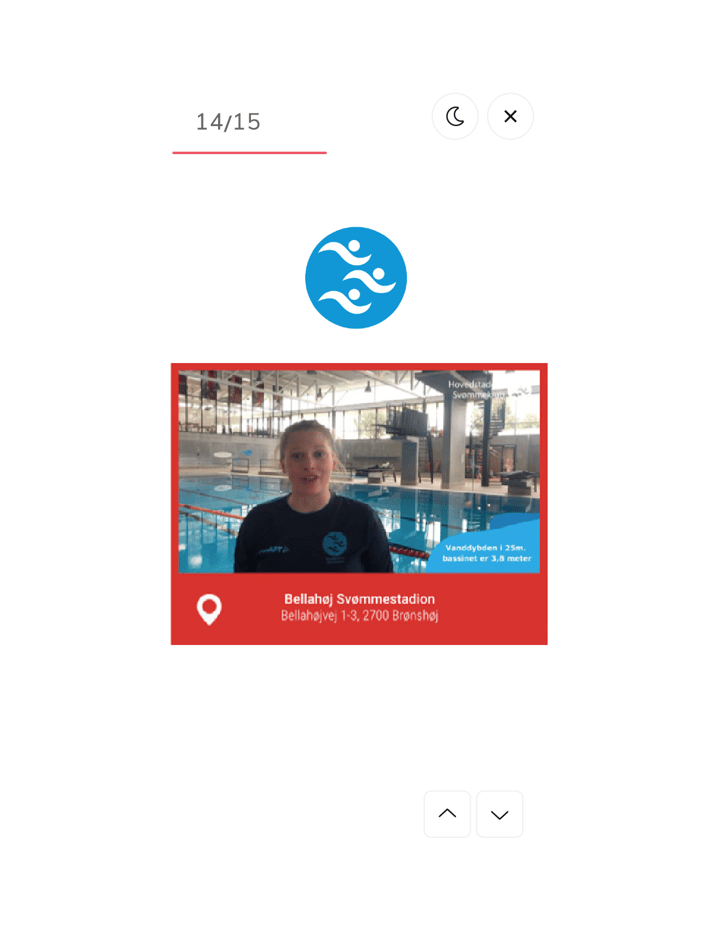 "An engagement survey shows that our coaches actually think it is nice that more stuff is happening online. However, it is important we still have meetings in person. But instead of spending a lot of time on handing over oral information in a physical meeting, now, we can give the information through the platform."
Jonas Enevoldsen, Head of Swimming School
Short Tips from the Experts
Learning Time & Digital Learning ⏳
Time for learning is not a matter of how many hours, but being relevant for the learner at all time
Make learning available at the right time and make it possible for the learner to take and search for learning when it fits their work-flow
Think blended learning and microlearning, and make sure to give a clear connection between physical training and digital training
📊
Learning

Measurement

& Outcomes
It is crucial to measure learning outcomes, because if we don't, how can it be improved? Yet, 28.9% of our respondents do not measure the outcomes at all. It is of course understandable if the process itself is manual, as it is a time-consuming task. Using a digital learning platform to measure learning outcomes can make it a piece of cake and save you a lot of time.
We asked:
How do you measure the learning outcomes?

These are the answers👇

Oral feedback from users and executives

Stats and analytics from our learning platform

Evaluations with metrics

We don't measure the outcomes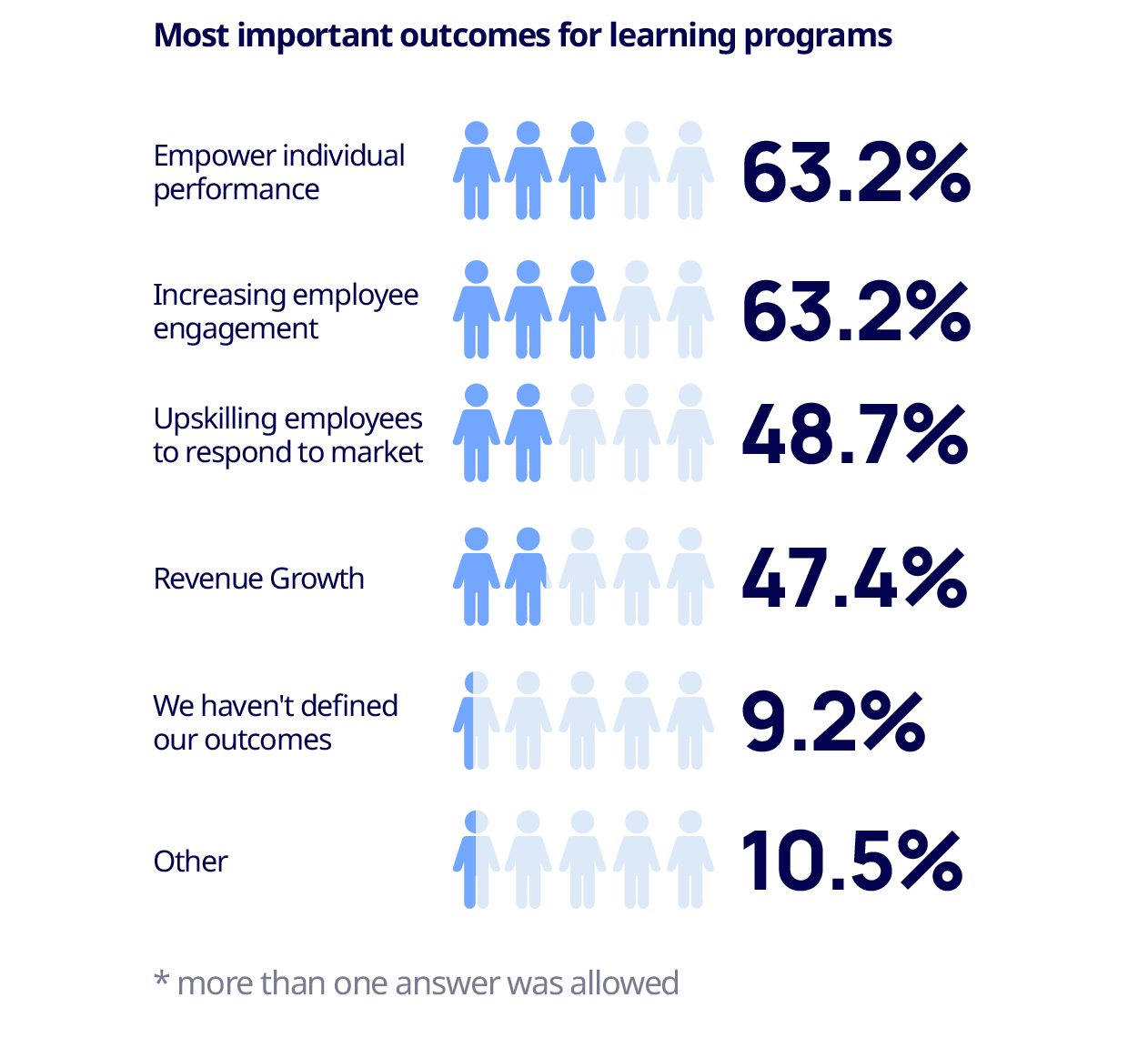 Employees Are Still at Center!
For the past two years Empowering individual performance and Increasing employee engagement, have both been fighting for a first spot.
Now they both made it to a shared first place proving that the employee is still in the center for learning just as they should be. Happy employees are what will lead you to better revenue growth in a sustainable way. Upskilling employees as a response to market is still on second place as demands keep changing.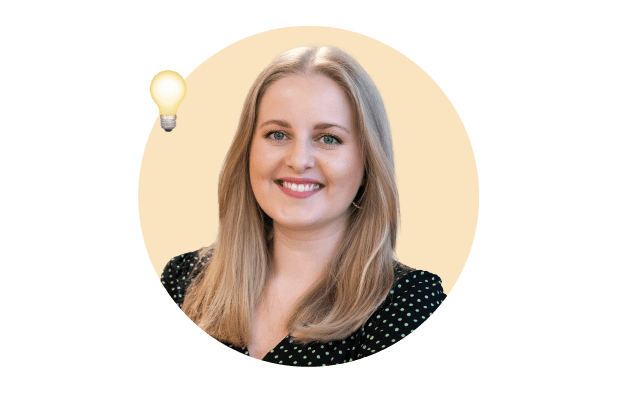 "Make the learning relevant by supporting the learner in understanding WHY it is relevant in their job position, and how they can use the learnings in their everyday work routines.

"
Ann-Katrine Schepler Holmberg, Global Learning & Development Specialist, Vestas
Short Tips from the Experts
How to Measure Your Learning Outcomes 📊
Build a business case for learning & set clear learning objectives
Connect the objectives to the business strategy
Dare to ask for feedback on all learning shared with learners
Use a learning platform or other evaluation tool to get the insights
Connect your learning platform to your BI tool to get business data incorporated with your results
Want to learn more? Read this short article.
🎤
Final Words
Change and uncertainty are consistent today. And it puts a huge pressure on HR & L&D professionals. But how do we manage the changes that affect our organizations? Shifting needs, shifting roles, and goals. It all calls for managing change and adapting. That's where learning comes in. Learning has never been more vital for business survival than it is today.
Despite slower growth in many sectors, good employees keep leaving. It's not enough just to get the employees to sign the contract. To keep the talents, we need to make sure they are and stay engaged and give them opportunities to develop and update their skills to match their wants and the market needs. And that's a big reason why learning & development in the workplace is so important.
But, to succeed, learning must not be seen as a separate thing. We must remember to anchor the learning strategy to support the overall business strategy and ensure our employees have the chance to develop throughout their careers.
We hope this report has given you a good base and will inspire your continued work to put learning on the strategic agenda.
We also hope that the insights can help you prioritize your heavy workload and show that by prioritizing learning & development, we strengthen both the business and the employees to be the best they can be.
Download the Report Summary
We know you very busy, so we made you a summary with the most important stats highlighted and short tips from the learning experts. Fill out the form to save it for later.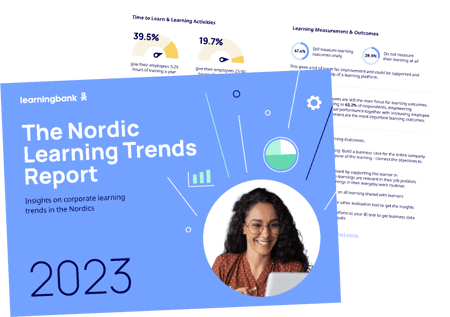 Background
The stats in this survey are collected from respondents representing over 70+ companies in the Nordics. The roles of respondents are within HR and L&D, a few come from C-level or independent learning consultants, where they have responsibility for the learning & development of employees.

Some of the questions in the survey had multiple-choice answers.
People who responded to the survey are, for the most part, between the age of 31-59 years old. They are located mainly in the Nordic countries (Denmark, Sweden, Norway, Finland & Iceland). 43.4% work for organizations with 100-400 employees, and 32.9% in companies with 1000+ employees.