Onboarding Benefits
You might have a hard time explaining to your manager, why you need better onboarding at your workplace. Because isn't the cost of onboarding quite high and why can't the new hires just get started on the tasks right away?
Well, first of all, greater onboarding gives a higher ROI than you might think, and, secondly, the reality of new hires is rarely super smooth if you hand over a lot of tasks for them to complete, the second they step in at your company.
It's harder to keep new hires today because there are so many great options for employees at the marketplace of work. You need to stand out as an employer, and one way to do so is by perfecting your onboarding experience.
Some other benefits of creating an effective onboarding program are:
Optimizing time to performance
Attract and retain employees and reduce employee turnover
Boosting employee engagement
Improve the employee experience
Getting a better company culture
Saving costs
Exactly this final bullet is what we will dive into right now. Because how can you actually calculate the value of onboarding in an easy way, that will ensure your manager that better onboarding is a good business case for both employees and your company?
No need to worry, we have got the answers for you in 3 simple steps to help you calculate the value. Let us calculate the cost, so everyone will understand what we are talking about.
You can also go straight to our easy-to-use onboarding cost calculator, where you fill out the blanks and drag the numbers yourself. The link is right at the bottom of this article.
Want to learn more? Read everything you need to know about onboarding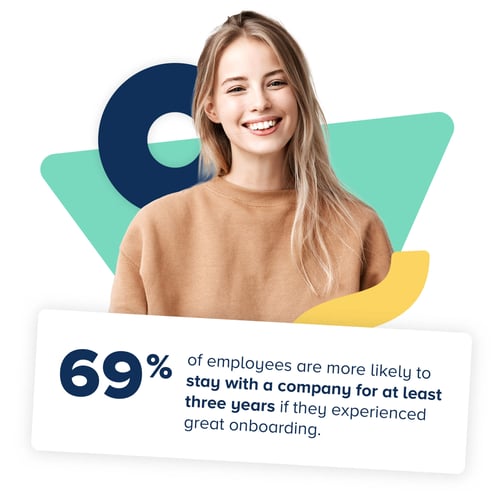 Step 1: How Many Productive Working Hours Are Your Most Experienced Employee Spending per Week?
Example: It is not unrealistic to envision a consultancy company experience an employee that is fully ramped to be able to sell around 27 of their work hours to their customers, while the last 10 hours are allocated to internal meetings and activities that the organization itself pays for.
A step-by-step guide: Take a pen and a piece of paper and write down what you believe the number for a specific role is. The next question is then: How many productive hours does an experienced employee have per week?
Step 2: How Many Productive Hours Does Your Inexperienced Employees Have per Week?
Example: Let us assume that the new hire sells on average 17 working hours per week until they are fully ramped and productive (obviously even fewer hours in the beginning and more hours as the time passes. But let us say 17 hours on average the first few months)
A step-by-step guide: Try to note down how many productive working hours the new hire has per week. And calculate the difference between a new hire and an experienced employee.
Step 3: How Much Does Your Organization Save if They Have a Structured Onboarding Program?
Example: Now we assume that it takes around 10 months before a new hire is fully ramped and at the same level as an experienced employee. After a solid and structured onboarding program, a new hire can get up to speed within 7 months instead of 10.
In that way, we have achieved on average 10 hours more productivity per week for 3 months. Multiply that with an hourly wage of $240, you end up with an increase in revenue at around $28500 on average per new hire, who has gone through an onboarding program.
Lastly, you need to look at how many employees are being onboarded every year to get a rough idea of how much the organization can spend and invest in onboarding.
A step by step guide: Note down how many months you believe it will take the new hire to ramp up and get fully up to speed when your organization has a structured onboarding program (a rule of thumb: you can shave off approximately 25 % to 35 % of the time it normally takes)
Then note the value of a productive working hour. In the previous example, the wage was $240 per hour as this is the price for an invoiced hour. You multiply this number with 4 and then then the number of months you have shaved off the onboarding. And here you have the estimated value of a new hire that is fully onboarded.
Essentially, your onboarding process is about being classy and showing the employee respect. By showing the new hire friendliness and the ability to be helpful by giving a structured introduction to the role, the organization gets so much in return in the form of an engaged, effective, and efficient employee. But why not also look at how much the organization saves and wins monetarily?
You can also just try out our simple drag, drop, and click onboarding calculator right here.