Danske Bank
When 3 employees change the behavior of 1500 colleagues
| | | | |
| --- | --- | --- | --- |
| | Industry: Finance | | Size: 1500 employees |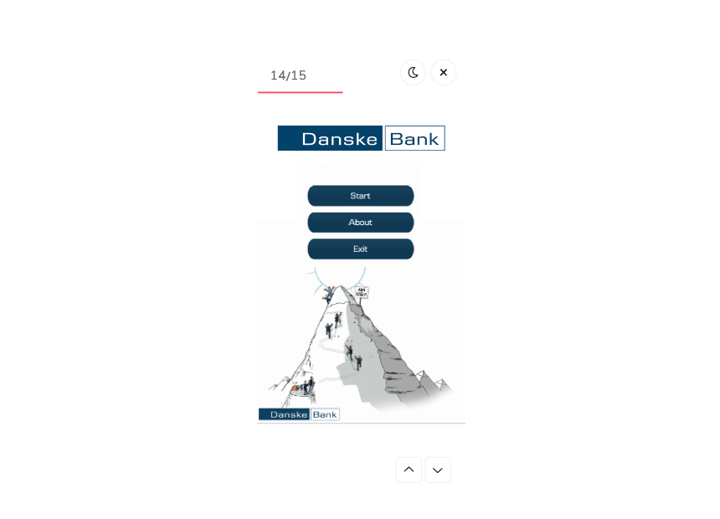 Danske Bank was founded back in 1871 in Copenhagen and is today the second largest bank in the Nordic region. They have offices in 8 countries and in total they have around 21.800 employees. The business unit in this case serving corporate clients in Danske Bank is a unit consisting of 1500 employees with an annual turnover of 2 billion DKK.
Challenge
The financial crisis back in 2008, caused massive changes, customer defections, and several other challenges that made Danske Bank have to reorganize a lot. With the changes, the team called 'Aim High', consisting of three employees was born. They are kind of internal 'pioneers' of the change process that started now, many years ago.
Before Learningbank came into the picture, the challenge Danske Banks 'Aim High'- team needed to address was how to ensure a coherent strategic change process and make sure that 4 different countries all followed the same principles to create one consistent Nordic Customer Experience.
Strong negotiating skills and 'soft skills' was Danske Bank's learning goal. Employees working with corporate clients in Danske Bank are expected to strengthen their skills in 'strategic customer dialogue', where the ability to negotiate plays an important role. How do you, for example, negotiate with a competitive person, if you are a bit 'soft' yourself? This is exactly what they want to help their employees do.
As 'life is busy' on the front line, this was also something that needed to be taken into account when creating the new digital training.
Solution
"It is very convenient that the training has become digital and thus scalable via Learningbank," explains Senior Business Consultant & Project Manager, Marianne Lykke Nielsen.
Training modules are kept in a short and simple format between 5 and 20 minutes, making it possible to fit them into a busy schedule. The content is designed in a visually engaging format – in the form of a digital learning game based on a fictional story of an employee, who is faced with the challenge of having to climb a mountain. The mountain metaphor is chosen in order to resemble a change process, which can be so demanding that it resembles the life of a mountain climber fighting his way to the top.
Danske Bank uses Learningbank's Learning Lifecycle Platform and ready-made learning content, including video, learning games, and quizzes, In addition, the 'Aim High' team created customized learning modules in Learningbank's authoring tool, which is basically a kind 'DIY' module.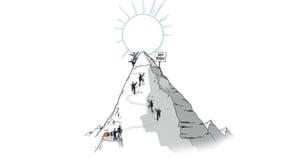 Results
"Normally it is very difficult to follow up on behavioral changes. But now we are able to follow up closely because we can see who trains, and we can see how much they train. We can address the needs of the local country managers by saying: 'Okay, if you really want this change, then your team needs to use the training programs actively.' This is a huge advantage," explains Marianne.
"Aim High was established in 2013. Today our training programs have become scalable in a whole new way. And my small team is well on its way to getting new internal customers since other departments in the bank are also getting curious and want to try something similar," says Marianne.
"Previously we used a 'cascading method' preparing a lot of slides for our SIA (Strategy Implementation Agents). But no matter how carefully you prepare the communication, important knowledge can get lost along the way. Our SIA's were anything but thrilled by the thought of having to act as experts in 'negotiation techniques'. So now we have created premium quality content instead. Via Learningbank we are able to deliver this content in four languages reaching even the most remote parts of the organization," says Marianne.
Danske Bank has launched the Aim High Learning solution in collaboration with Learningbank as part of the overall strategy leading up to 2020.
Download the case here