Sympathy, empathy, and personality. Those are characteristics that the leaders of the future need to have, according to the new digital generation entering the workforce. Otherwise, they will look elsewhere for a place to work.
If you only focus on optimizing your hard skills, there is a chance that those competencies will be automated tomorrow.
What are Soft Skills?
Learning soft skills is essential in the workforce of the future - both if you wish to attract and retain employees, but also to keep oneself relevant over time.
Soft Skills are more than 'Likeability'
According to Lia Garvin, Diversity & Inclusion Program Manager at Google AR/VR, soft skills are categorized as interpersonal and communicative competencies that lie within our emotional intelligence (EQ).
It might sound fluffy to begin with that you need competencies that have something to do with emotional intelligence and soft skills, but it is actually one of the key elements in making yourself a better leader.
Soft skills are not only about being a likable leader. You also need to have the skills to give difficult feedback to employees, be brave when it comes to making changes, be creative, and think outside of the box.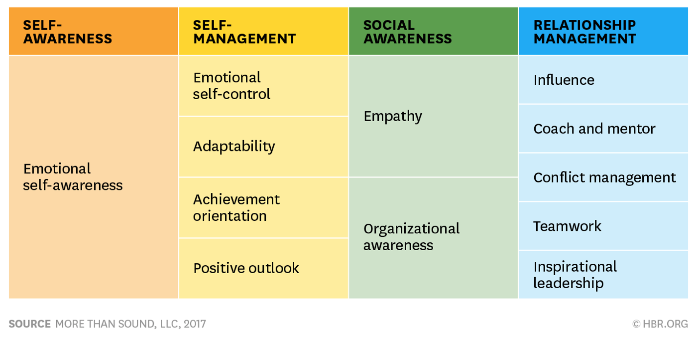 There are four areas within EQ that can be worked with: Self-awareness, Self-management, Social Awareness and Relationship Management. And within those four areas, there are 12 soft skills and competencies one can work with as a leader (see the table above).
If a person is strong in 'Conflict Management', it means he/she is good at giving hard feedback, and if someone is good at 'Inspirational Leadership', then he/she is good at creating and completing change within the organization.
By taking a closer look at the 12 soft skills, you will notice where you are strong, and where you need to optimize and develop your skill set.
Learning with Virtual Reality (VR)
There are thousand of courses that teach how to enhance soft skills. Still, we see that soft skills are dependent on the culture we work in. Soft skills change based on experiences we make - and not based on specific knowledge on soft skills that we can read about.
That is why it makes sense to learn about soft skills in closed off training environments, where a person can encounter specific scenarios and make their own experiences. An example could be to wear a pair of VR glasses and get sucked into a virtual world, where there is no consequences of the actions one take.
It is also important that you get feedback on the choices made in the virtual reality training to be better prepared when facing a critical conflict in the real world. This is only on of the many methods in learning and development shaping our leaders of the future.