Kaptec
From Time-Consuming to Time-Efficient

& Effective Employee Training
| | |
| --- | --- |
| | Industry: IT/Service |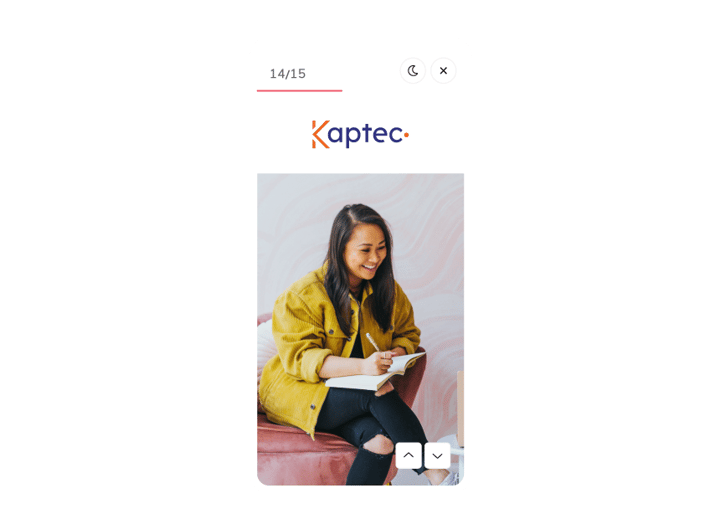 Kaptec is an IT solutions expert for unified communications and modern workplace solutions. Their remote workforce, located mainly in Ireland & the UK, helps customers improve performance by simplifying, transforming, and growing their businesses.
Challenges
A vital part of Kaptec's business success is their Customer Service Agents. These are the ones with direct contact with customers and Kaptec needed a way to secure good training and onboarding for them and all their employees.
Before implementing Learningbank and what came to be Kaptec Academy, many of Kaptec's agents struggled to see the connection between their daily job and their business impact.

Training was often done using gloomy, old PowerPoint presentations in traditional classroom settings. Not only was it hard to keep the attention of their employees, but it was also very time-consuming tasks to ensure that the employee training was being provided, updated, and followed-up on.
"It all took a lot of manual work, a lot of Excel sheets, and every team leader within the business had their own kind of tracking. The lack of a system also made it hard to create the reports we needed", says Alexandra Corinealdi, Service Delivery Manager at Kaptec.
Solution
The easy-to-work-with Learning Lifecycle Platform from Learningbank became the solution for Kaptec's challenges: "Now, it's easy to roll out new trainings with the platform, no need to work with PowerPoint or Word or whatever we used previously. The platform also makes the maintenance of all the trainings much easier."
Alexandra is the only one at Kaptec working directly in the platform, despite this, she managed to launch the new Kaptec Academy in just 3 months. But she had great support from Learningbank all the way:
"Any silly question I had in the beginning, our Adoption Manager was the most patient person in the world and helped out quite a lot. But if you sit down and actually play around with the system, it's a very straightforward approach."
"I was just like oh, this makes my life much easier."
Although Alexandra does create a lot of training on her own in the platform, being able to use pre-built content & not having to make everything from scratch makes a big difference: "The pre-made content that you provide [from the Learning Store] helps a lot. If not, I wouldn't be able to handle it myself."
Another way the platform helps is when they do quality checks. The platform makes it easy to get an overview which makes it easier to support the growth of employees and the business. Now they can nodge the employees to do training again and then have a conversation about what could have been done better to improve the customer experience.
Results
"When we rolled out the platform the feedback was very positive. Simply because it was engaging and interactive content versus the, you know, learning book-style training. We are at the point now where employees are asking for specific trainings and providing ideas on what could be done, so the engagement is definitely there! We never saw this before."

For Alexandra, being the only one working in the platform, she has seen many positive results. She saves time as it is faster to work in the platform, and it has given an organized and manageable way to create, maintain and get reports on their employee trainings.
"It's a much more efficient style of providing training to the employees. It's seamless. It's an easy workflow."
Alexandra also explains that looking at their staff reviews, the employees now have gotten a better understanding of their own business impact and a better understanding of customers. "Before they were like, OK, I'm a customer call center agent and that's it. The mindset was 'I can't directly influence the business's success', but that mindset has changed a lot with the training that we can provide with the platform."
"Learning helps build up the skills, and the better skills the teams have, the better service they can provide," says Alexandra.