Product Updates
Here you can find everything that we've been working on so far.

August 2023
One click AI module maker writing magic
Easily generate new versions of your learning material, so you can always find the perfect way to communicate your message. Highlight text in the Module Maker and generate new verisons, such as shorter, longer, more friendly, or more professional versions. Easily switch between manual and AI content creation to create the perfect content for your learners.

August 2023
Listen to your learning with text-to-speech
Text-to-speech is a powerful tool that can help busy, on-the-go learners learn more effectively. Keep your learning materials more interactive and engaging, while making it more accessible to people with disabilities, such as visual impairments or hearing impairments.

June 2023
A New Analytics Solution for Enhanced Learning Management
Learner Insight is a powerful tool that gives you a clear overview of your learners' progress and helps you identify areas of struggle and success. It also allows you to track individual users, departments, and job profiles, so you can make informed decisions to optimize your learning management.

May 2023
Streamline Your Training:
Plan Ahead with our Sharing Feature!
Effortlessly distribute learning content by setting a start date. Ensure timely training for your employees. Streamline the process, eliminate coordination hassles, and optimize learning journeys. Say goodbye to manual scheduling and embrace efficient content sharing.

April 2023
The Perfect Blend: Bring your Digital and Physical Learning to the Next Level
This gives you the flexibility to combine different learning methods, such as attending live sessions, watching videos, and learning modules. You can choose how your required event is completed: automatically, by an admin, or by the learner themselves.

April 2023
More stunning sharing journeys
Enhancing the Sharing overview with sleek and modern images, streamlining the interface to align it better with our platform and provide an intuitive user experience.

January 2023
Say Hello to Our New App
Take your learning with you anywhere, at your own pace, making it easier to fit into everyone's busy schedule. This is an easier and more convenient way of developing yourself, and the app provides a better mobile learning experience!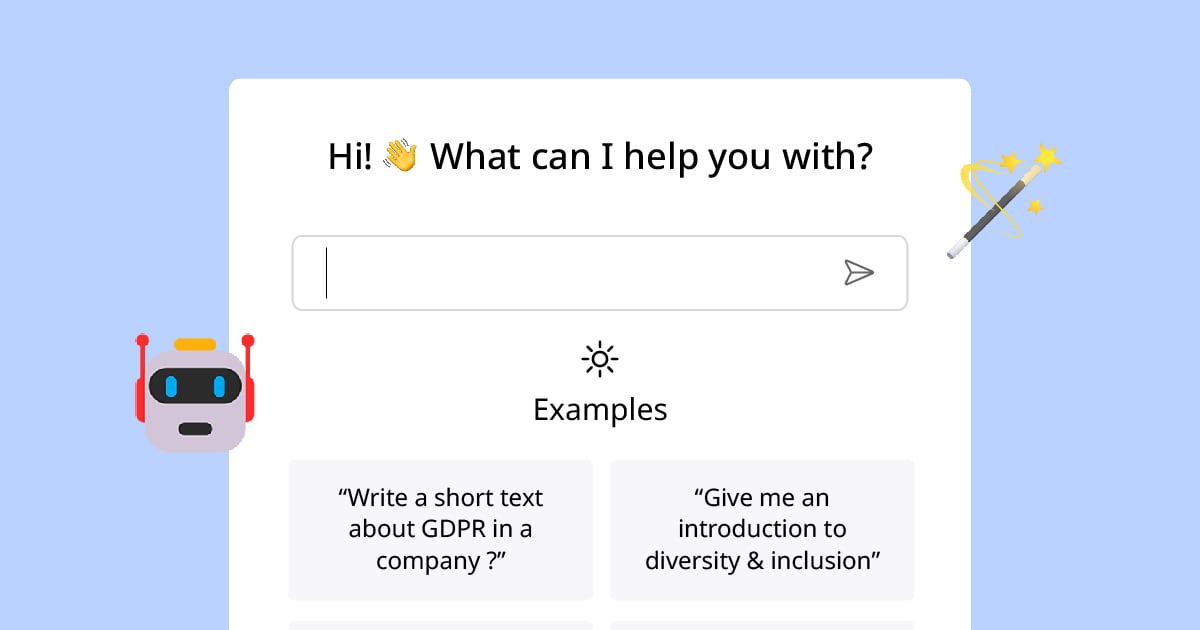 December 2022
AI Learning Helper.

Produce content 10x faster.
We want to help you work faster and smarter. Our new AI feature is going to help you create learning content, generate ideas, build interactive modules and so much more. Your content creation process will become 10x faster.

December 2022
Auto-Translation.

Learning Content Globally Accessible
Introducing our new auto-translation feature - making learning content globally accessible has never been easier! With just a click of a button, you can now translate entire modules into new languages, saving time and effort while breaking down language barriers.

December 2022
Blended Learning.
Learn together.
Some activities are just more fun with other people - empower your employees with next-level digital and in-person training. We've made it possible to create and schedule training activities (digital and in-person) all in one learning path.

April 2022
Rated learning.
Elevate your learning culture.
Eager to know what your learners think of your training content? From now on administrators can view all the learner ratings and comments, sort them by stars and time, and use them to enhance the effectiveness of their learning content.

February 2022
The New Module Maker 2.0
Introducing the Module Maker 2.0 – a user-friendly update with new features, offering admins a better content overview and easier slide creation, while providing learners with smoother navigation, improved interactions, and enhanced answer tracking.

Read more
October 2021
Edit your published Learning Paths
We're upgrading the platform with changes that will make things better while keeping most things familiar. You'll soon be able to edit published learning paths based on your request, and both the admin and learner views will have a refreshed interface and simplified module settings.

Read more

September 2021
Learner Dashboard magic
In this release, changes were made to the learners' dashboard, including updated titles and added subtitles to provide clarity on the content. Additionally, super admins now have the ability to customize and rearrange widgets and swimlanes on the learners' dashboard according to their preferences.

Read more
June 2021
Changing "whitelabel" to "branding"
At Learningbank, we strive for continuous improvement, including enhancing the language used in our platform to ensure the best user experience. Understanding the importance of inclusivity, we have replaced the term 'white label' with 'branding' based on feedback from clients and team members. This change aims to provide a more straightforward and intuitive experience for all end-users.

Read more
June 2021
More automation, new languages, and much more.
A few new updates: upgraded settings in the user management with deactivate, anonymize, or delete functions, new manager driven module permission and additional languages added.

Read more
May 2021
Some of our favorite updates in May 2021
New possibilities when creating rules in a Sharing, mark learning as completed and notification visual updates are waiting for you in the platform.

Read more
April 2021
Adjustments and improvements based on your feedback
March 2021
Learningbank achieves million investment in just 30 days
March 2021
The New Sharing Has Arrived!
January 2021
Manager driven test
November 2020
Let's explore the Learning Overview and Deep Linking
October 2020
New Notification Center, Hashtags, and more!
2020
Bettering Your Admin Experience
2020
Events Made Easy
2020
Customising Your Platform
2020
User management upgrade
2020
Users can now belong to multiple departments
2020
Modulemaker is now faster - and we gave it a facelift
2020
New user challenge: Fill in the blank
2020
New (admin) dashboard - hey, good lookin'
2020
New Feature: Sharing
2020
Feature Improvements on the Platform
2020
Organize your learning content with tags
2020
Fight COVID-19: New Learning Flow About The Coronavirus
2020
We think, dream, and speak "username"
2020
A whole new way to share learning
2020
Let's get social – and learn together!
2020
Multiple white-labels in ONE platform
2020
New Features in September
2020
Use these new interactive features to boost engagement
2020
SCORM as a slide
2020
Do wonders with these new features in the platform
Interested in the platform or
have questions about the feature?