Crossbridge Energy created more relatable training - and way faster with auto-translation
Industry: Energy

Size:

270 employees + 100+ external contractors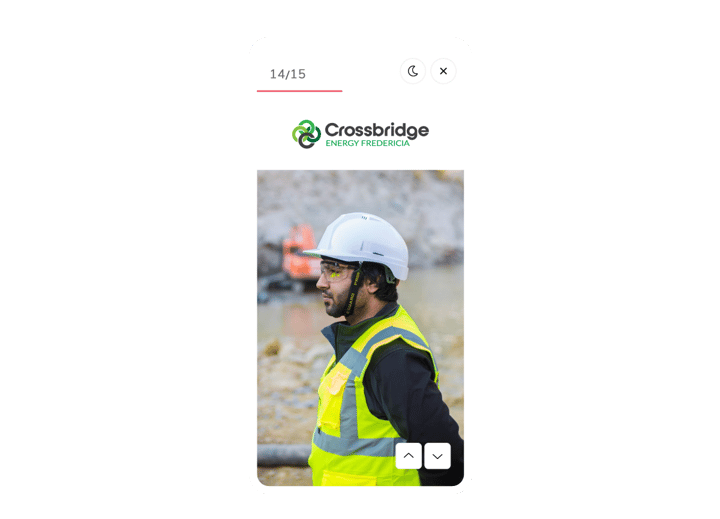 The Crossbridge Energy Refinery in Denmark (Fredericia) is the world's third-most energy-efficient refinery and number one in Europe. It is Denmark's biggest supplier of surplus heat to district heating and delivers what corresponds to 23,000 households' annual consumption of district heating. Also, Crossbridge Energy has started to do a green transition of the energy sector.
Challenge
Big, heavy machinery and risky tasks lurking around a typical workday. These are some of the main reasons why learning and well-educated employees are so important at Crossbridge Energy.
"Learning is an extremely important part of a company like ours, which is a company where risks occur. Therefore, it's important that operators and technicians are correctly trained to ensure safe processes in the production," says Søren Larsen, Learning Manager at Crossbridge Energy.
"Furthermore, development of employee skills is very important to Crossbridge Energy, because we believe that when we have skilled and well-educated employees we can solve the future challenges, not at least when it comes to the green energy transition."
Solution
A couple of years ago, Crossbridge Energy was part of a big conglomerate, where they had to use the conglomerate's learning management system. The learning modules from that system were not very relatable to the employees at Crossbridge Energy.
But when they were not part of the conglomerate anymore, they needed an LMS that could create learning closer to the job roles and locations of the employees.
Therefore, they chose Learningbank's Learning Lifecycle Platform.
"We chose Learningbank as our learning platform because the platform is very user-friendly – both for the many learners and also for the people who have to administrate the platform."
"With Learningbank's platform, we have the opportunity to fit the learning modules and make them more specific for the working conditions at Crossbridge Energy in Fredericia. We have had the opportunity to remove a lot of the non-relevant general talk, and now, we can make accurate learning, specific for the operators and technicians, which they will use during their workday."



Søren Larsen,

Learning Manager at Crossbridge Energy
"Also, now, external contractors and craftsmen can easily get training too and be integrated into the system. That wasn't the case before."
Crossbridge Energy has used the platform for 2 years. They are 270 employees and hundreds of contractors and craftsmen, who all have to complete several safety trainings.
They also have mandatory training in relation to their job role, and some have to do further compliance training.
Søren is tracking the mandatory training each month, who has completed the training, and who has not. It's important because authorities can come visit and need to see who has completed the training. So, here Søren can easily generate a report from the platform.
"Furthermore, it was also important to us with a learning platform, which can work together with our salary system, so we only had to maintain one database. In that way, we can now automatically make data transfers from the salary system to the learning platform."
Results
With the Learning Lifecycle Platform, Søren can now easily and quickly create learning relatable for the employees and contractors at Crossbridge Energy. And this will also have an effect on the future transition they are doing.
"Now, when we quickly can create different learning modules and paths, then we will have a much easier time educating our employees for the green energy transition, and, in that way, will be better equipped for the energy challenges of the future."
There's also a special feature in the platform that makes the life easier for Søren, when he creates learning.
"A company like ours, which operates on a global level, also needs to have course materials in multiple languages, and that's why the auto-translator feature in the platform is absolutely ideal in our case. Now, it's way faster to create modules in multiple languages."
Søren concludes: "I will definitely recommend Learningbank to other companies because the learning platform is very user-friendly – not just for the many employees who need to learn new skills, but the platform is also very easy to administrate, and it's easy to create different learning paths."